Ronald Ainebyoona, a third year student of Law at Makerere University has petitioned the Vice Chancellor of the university to suspend the dean of students Mr. Cyriaco Kabagambe on allegations that he is incompetent and corrupt in as far as his role as leader of the caretaker guild government is concerned. Ainebyoona, the petitioner, was a guild presidential hopeful whose nomination was frustrated on grounds of not meeting the required qualifications.
The petition, that was copied to the deputy Vice Chancellors and the head of security at Makerere, implicates the former chairman of the electoral commission Mr. Peter Makumbi, the General Secretary to the same commission Mr. Rene Ndoyi Gatuya and the Public Relations Officer (PRO) Mr. Arthur Kyambadde.
The petitioner alleges that the three students together with the Dean of Students connived to fleece him of upto shs. 5.6 million on promise that he would be nominated without the substantive requirements.
"As the petitioner, I was a guild presidential hopeful in the current guild race where at the eve of nomination, I was called by the Chairman of the Electoral Commission Makumbi Peter who informed me that I did not have the substantive requirements for nomination and that I needed to pay a sum of shs. 5.6 million to the electoral commission and caretaker government to process all requirements," the petition reads in part.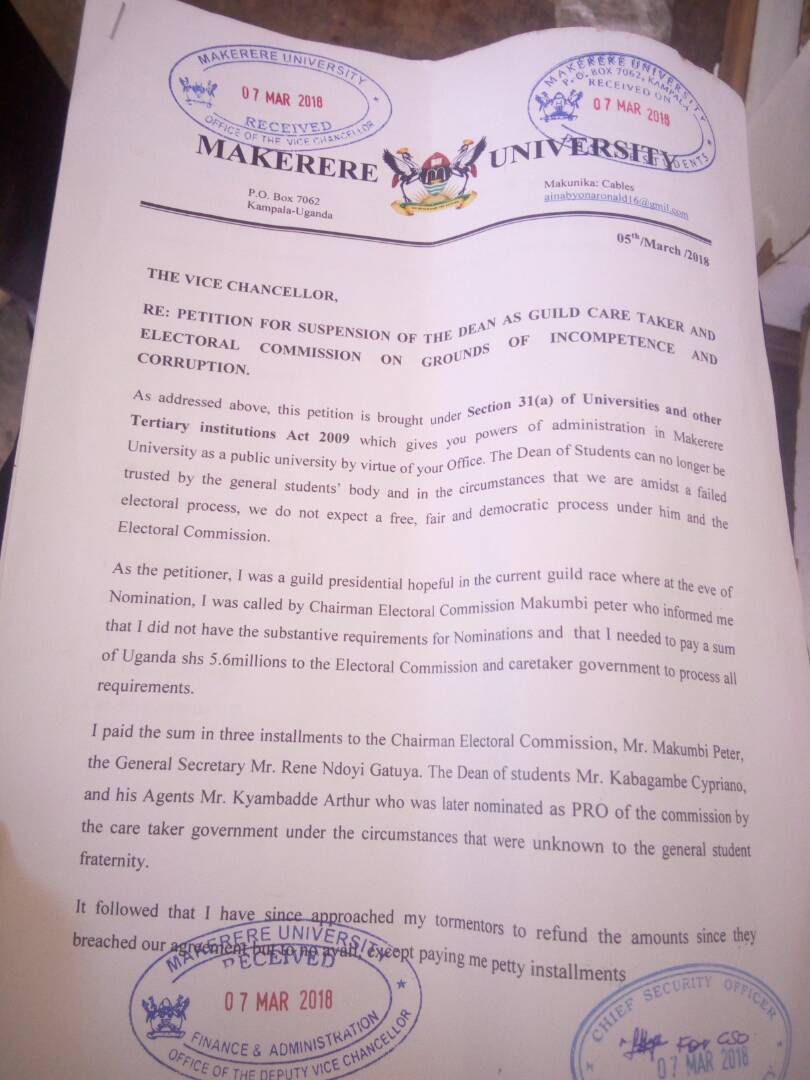 Since then, he claims the said people have ignored him and refused to refund his money after failing to meet their end of the bargain and consequently not nominating him.
In a telephone interview with our reporter, Ainebyoona affirms that he drafted and handed in the said petition to the Vice Chancellor with hope for a transparent process of hearing.
"I cannot reveal my evidence at the moment but I can assure you that at the time of hearing or while in court, I shall avail the evidence pinning all the said people for all Makerereans to see," Ainebyoona said.
Consequently, he appealed to the Vice Chancellor to clean the caretaker government and the electoral commission and rid them of the said incompetent and corrupt people.