About 15 years ago, youths were only looking at white collar jobs and the traditionally existing job tags like doctor, engineer, lawyer as the only means of survival. With the change in technology and trends however, youths have come up with means of making a decent living out of this ever changing world.
One such youth is Hillary Kakooza, a 26 year old Digital Marketeer and Influencer. Mostly known as Scopion MC, Mr Kakooza may not be that famous a celebrity in Uganda but commands larger followings than most established celebrities on Uganda's Instagram Community.
In fact, he has got the 4th Most Followed Instagram account with 561K followers just after Eddy Kenzo, Jose Chameleone and Rema. If Instagram fame were power status, he would be the 4th most powerful Ugandan. Scopion Mc manages and markets social media platforms for celebrities and businesses, does web development, pay per click advertising among others forms of digital branding to make a living.
"The struggle is to make a better life for myself and my family. The competition to get jobs is hard and we have to be very innovative to survive in this Uganda. Youths need to pick a sector they're good at and become the best there will ever be in that sector. That is the game of survival." Scopion MC told Campus Bee.
Since 2012, when he started out, he has worked with brands and celebrities like DJ Shiru, Ziza Bafana, Bettinah Tianah, Nince Henry, Eddy Kenzo, Spice Diana, Hanson Baliruno, Lydia Jazmine, Abryanz, Judith Babirye, Anitah Fabiola, Karole Kasita, Gravity Omutujju, John Blaq, The Ebonies, Jahlive Films among a whole bigger list of work experience.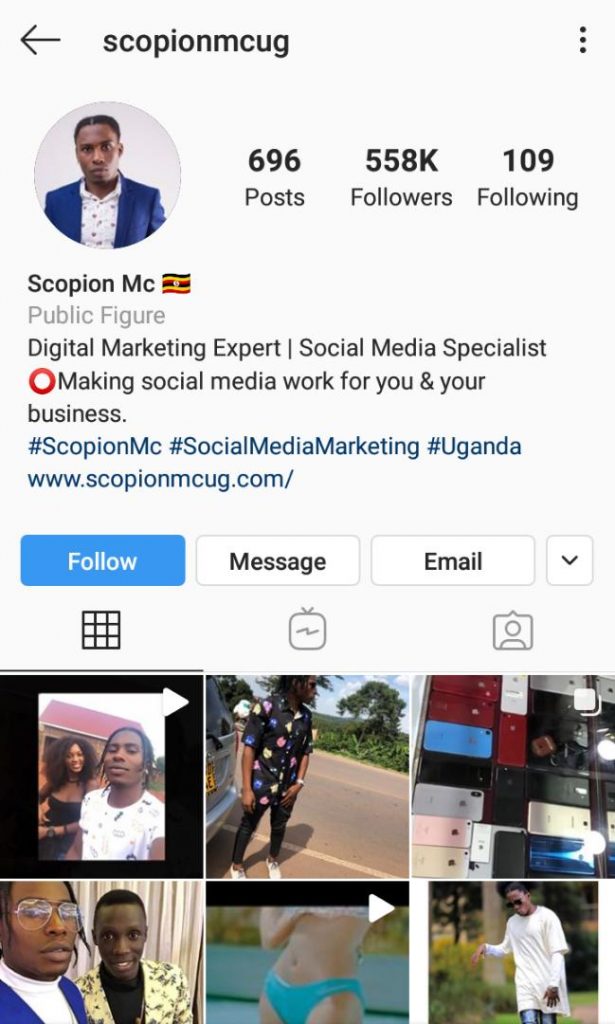 Comments