If you love sweet music, you will surely fall in love with the maker or producer- attractive (in looks) or not. Not much is known about Ndejje University in the music production scene apart from the remoteness of the main campus. Well, a few Ndejje students have put their brains to mint money for themselves.
Introducing, Obitre Gideon Erima, Ndejje University campus dude minting his tuition from music production.
Obbi 'Yege Yege' Gideon is a fourth year student of Mechanical Engineering at the main campus in Luweero.
The genesis
Started as a small studio on his bed in his one roomed hostel in first year, Obbi now boasts of an established studio that serves music production in the whole of Ndejje area. Way back in 2014, he owned a microphone, a faulty desktop 2002 window computer and could sing live directly from his bed with no sound proof or good sound card.
Little did he know that one time he will produce songs that will feature on the top radio stations in the Country. Supported by his father who loved to take long without hearing fom him (Obbi) call home to ask for money, his father gave him the initial capital to start a studio after spotting his love for it.
"From my little savings and money from my dad amounting to about 300,000shs, I first bought a microphone then other other equipments came later", Obbi recalls. "I could sing live from the mic, no sound proof and the audio quality was poor, my roommates could laugh at me but here I am, heading higher than never," he reminisces with a smile on his face.
Obbi is also a dancehall artist with several tracks of his own though he majorly does music production. He is currently the manager of Island Sounds and owner of Obbi Records in Ndejje, the only production studio in the area. Per production, he gets about 150,000shs and at end of the month, he clears his own bills and pays himself tuition amounting to over 1.5million.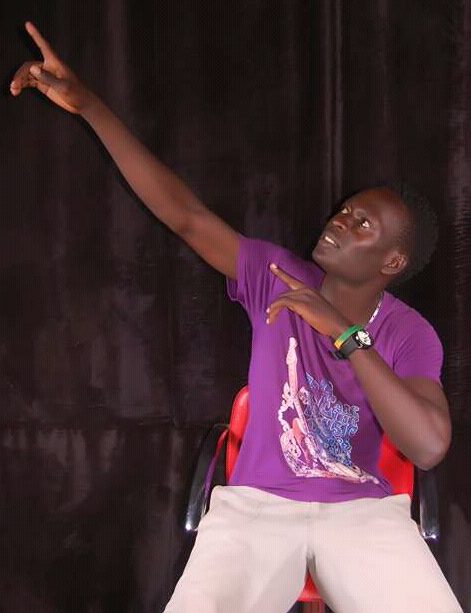 Challenges
Just like any journey to success is not a straight one, Obbi faces many challenges such as balancing books with the tight artistic work. He wakes up at 6am daily, attends to his studio then goes for lectures though he says course works beat him hard. The other challenge is some artistes pay him late after recording their tracks and also the studio is located far from Kampala thus limiting his market range.
Though Obbi says he's still lacking some equipment like a quality sound card, he says the studio business has enabled him pay all his fees, rent and support his siblings at home. He plans to shift the studio to Kampala in Namungona.
He is also currently signed to Manager Blaize who is promoting his whole business and musical career.
You can reach him on 0781475122 or like his page on Facebook Island Sound Pro or contact him on his personal account Obitre Gideon Erima on Facebook or check his sound cloud account at Dancehall Yege Yege.