Art is something that has not yet greatly moved the masses down here in code 256. However, the very few that appreciate it and are willing to pay any price for a piece ensure that they really go for it.
Today on Campus hustler, dronebee Enywaru Piusantos traverses the streets of Banda and digs out three close friends; one from Ndejje and the two from Kyambogo University that own this little market of Art lovers.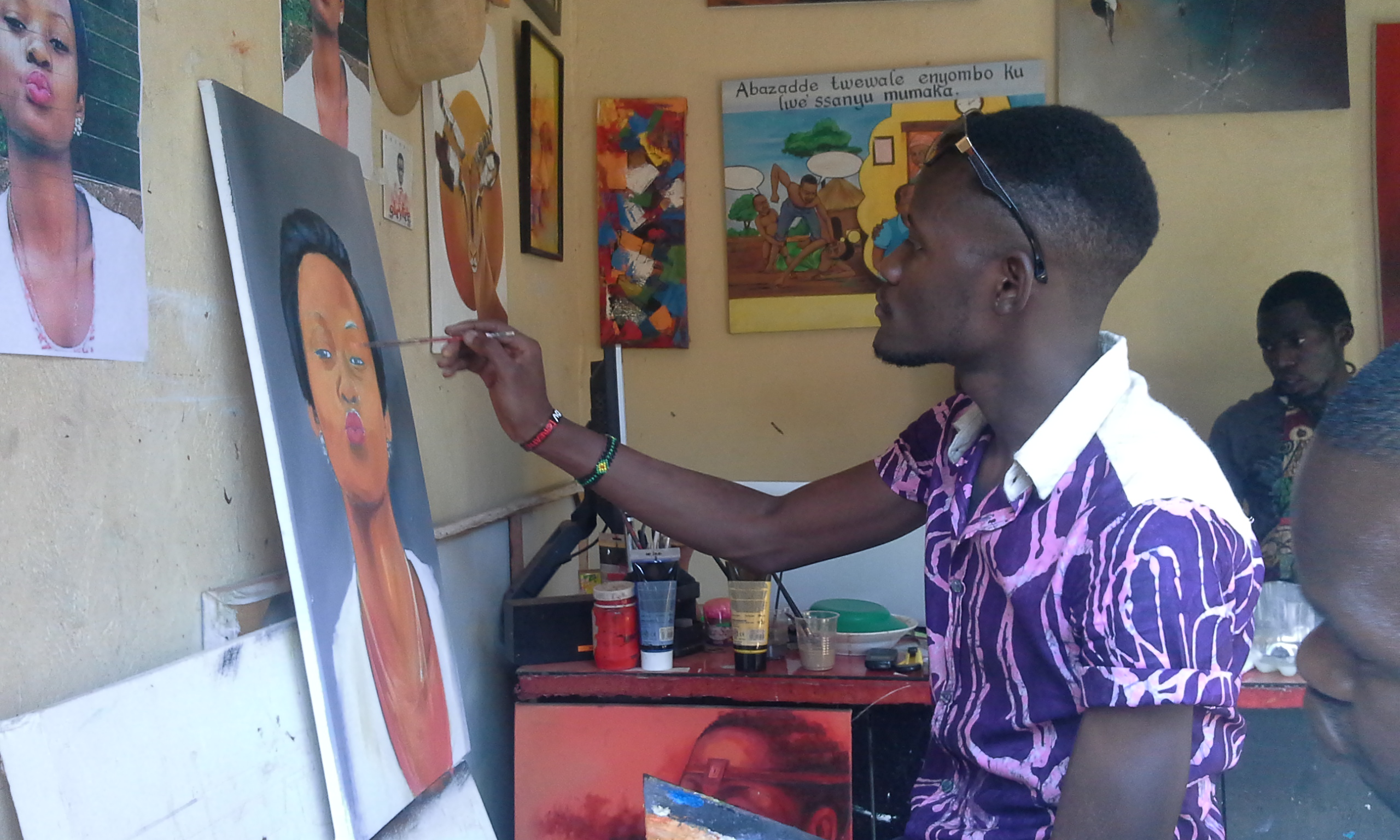 While haggling with Art and Industrial Design at Kyambogo University, Two close friends, a simple Katushabe James and a reserved Bwanika Simon met and decided to start up an art gallery where they will showcase their work owing to the fact that there were no ready jobs after them graduating. Along the way, a one Kakaire Hassan from Ndejje University joined them and made it a trio.
What sits on Kyambogo University road is Artwonder Uganda, an art gallery thanks to the hustle that dates back to 2012.
Using Upkeep at Campus and selling off pieces that they showcased as part of their course project, the trio was able to join forces and venture in painting pieces and designing various items. Today, the hustlers are a team of many deals awaiting their execution.
Narrating their journey, Katushabe James who seems the head of the rest, intimates to Campusbee that the beginning was not easy. "While starting up, we had to stomach many tantrums from customers that thought we were amateurs at the game," narrates James.
However owing to their teamwork and determination, the team believes they will penetrate the world with their art made in Uganda.
ArtWonder Uganda Deals in Painting Potraits, designing shirts and other fancy items.
Achievements
Artwonder Uganda today boosts of many innovations that are visible to many people. Katushabe was able to represent Uganda at the recently concluded African Fashion week in Ghana. He says to him, that was "a dream come true."
"With increasing sells, Artwonder Uganda earns close to shs500,000 on a good day and has to settle for close to 40k on a bad day but all will come clean someday," James reveals .
Challenges
The team is unhappy with the poor quality materials that are in uganda which produce poor pieces. The capital for further investment is also a problem and this makes it hard to make new additions to the business.
"People down here in Uganda rarely respect art but we believe that with our creativity all will be better with time to come", interrupts Kakire Hassan the Ndejje partner.
Owing to the relentless hustle, James in a jovial mood intimates to Campusbee that he was able to pay tuition, manage his upkeep and embark on a farming project.
The team believes that in five years to come, they will export Ugandan art overseas and be able to make Artwonder Uganda a respectable Brand.
God Bless you as you creatively craft your hustle.
Comments