Sandra Musimenta, a mother and graduate from Uganda Christian University (UCU) is reaping big from her cooking skills despite the high level of unemployment in the country. She also employs two ladies who she pays an amount some graduates haven't earned in white collar jobs.
While speaking to a local Newspaper recently, Musimenta disclosed that she runs a home kitchen where she prepares meals and sells to her neighbours, friends and some family members.
While speaking about her new money-minting idea, Musimenta confessed that she started by making simple recipes for her kids who liked them.
"I started by trying out different recipes for children. They would taste and give me feedback. I started posting photographs of the meal on social media platforms," Musimenta recalls.
The hardworking UCU graduate added that she has been doing this since November 2019 in a business dubbed Maama Sandy's Kitchen. On July 1, she came up with a new marketing idea that saw her invest UGX 250,000.
As part of the marketing tool, she made 50 beef samosas at a cost of Shs75, 000, 50 vegetable samosas at Shs75 000 and 100 chapatis at Shs100, 000. She gave out snacks to loyal customers and family and urged them to give her feedback.
Due to her lit food presentation on social media, her followers are always making orders. She recalls that one of the meals that attracted a lot of attention was a platter (Lusaniya) of vegetables with posho. By then, she was staying in the Royal Palm Villas, Butabika.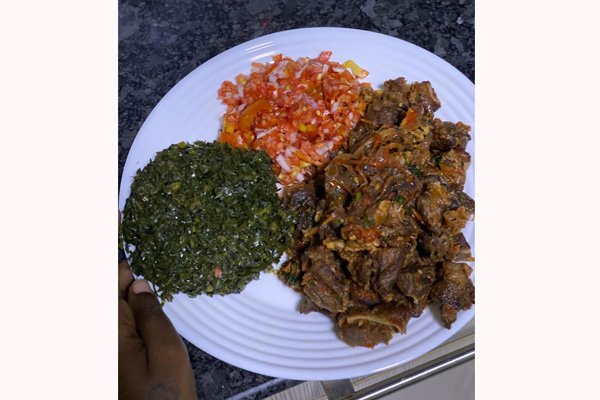 "It is a nice neighbourhood and I thought that I could start with the people living within the estate. I began with katogo, (a mixture of vegetable prepared with matooke, or green bananas). People loved it. I would knock on people's doors, marketing my culinary services," says Musimenta.
Apparently, right from university she was a dope chef and her friends loved tasting her food especially Katogo. With no secret ingredients used, she reportedly inherited the Katogo-cooking skill from her mother who wasn't a joke by then, when it comes to matters with preparing food.
Some of the ingredients used while preparing her Katogo include; bitter medicinal garden eggs (entula), egg plants, African braised kale (sukuma wiki) and mushroom.
Besides the Katogo, Sandy's Kitchen prepares beef and vegetable samosas, egg rolls among other fast foods.
Speaking of business, Musimenta's meals go for as low as UGX 5,000 and she employs two other people to help her out. Musimenta pays the two ladies a whooping UGX 500,000 a month in a business that receives between 20-30 orders at once. She however revealed that being their boss doesn't mean she should act bossy, before adding that being humble means everything to her.
"We have to push on and market as an entity. I have a good relationship with my fellow employees," Musimenta said
In her busy days, she can secure between UGX 100,000 – 150,000 at once when customers overwhelm her with orders.
One of the things she was forced to adjust was time management and it was hard at first for her to forget the campus way of managing time.
"I used to be poor at time management. Experiences have taught me valuable lessons of managing my time better. Today, I use every opportunity to market my cooking services," she added.
Among her aspirations, she would love to provide catering services to the State House as well as growing her enterprise to a level of running at least a delivery outlet with at least four motorcycles.
Comments