Ssejjuuko Henry, a Kyambogo University first-year student pursuing a Diploma in Mechanical Engineering is reaping big form his motor garage dubbed Ssejjuuko Motors located in Kireka, Kamuli Road. Ssejjuko is currently employing over four young mechanical engineers most from the Banda-based university.
While exclusively talking to Campus Bee, Ssejjuuko confessed that he was born from a poor background which hindered his study especially after finishing senior six. He spent two years seated, a period he utilized to learn mechanical engineering, which was his childhood dream.
"I completed my S.6 in 2016, so I had to seat for two years and that was 2017 and 2018 learning these things. Then in 2019, I had to go to Kyambogo on my own." Ssejjuuko disclosed.
Ssejjuuko, who liked mechanical engineering from way back revealed that shortly after O Level, he joined Vision for Africa, a technical school where he got his first skills.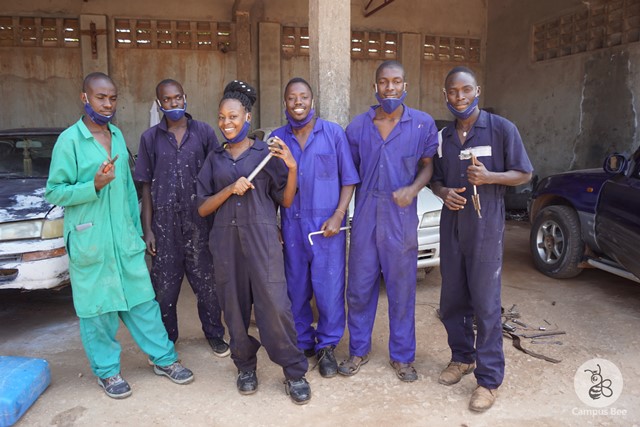 "After my 2014 senior four UCE, 2015 I went to a technical school called Vision for Africa that's where I learnt the mechanical stuff. I did a certificate in motor vehicle mechanics." Ssejjuuko said.
According to Ssejjuuko, starting the garage business needs no capital because all it takes is skill. He also explained that fresh graduates can start their own garages instantly provided they have a tool box and skills.
Ssejjuuko is currently employing four Kyambogo University students who are pursuing the same course (Mechanical Engineering). On top of paying them wages per vehicle worked on, Ssejjuuko also trains these young people for a period of six months.
"I train them because I want to be sure if the papers they have really show the skills they have." Explains Ssejjuuko.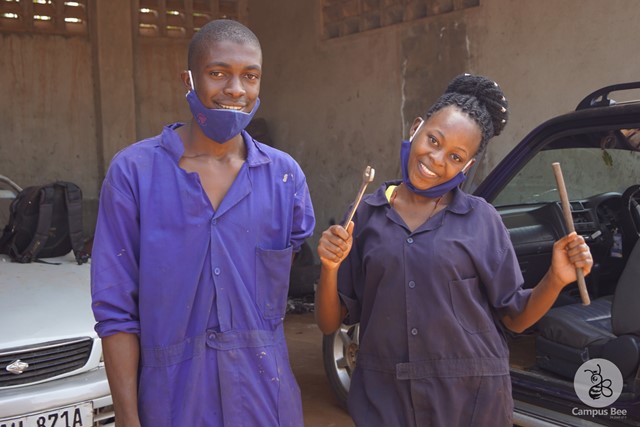 Ssejjuuko Motors specializes in cars like Toyota, Mercedes, Ford, Nissan, among others. They also offer a variety of services like panel beating, mechanics, electrical wiring, and spraying.
Florence Nakazi is among the four Kyambogo students who are employed by Ssejjuuko. Nakazi told Campus Bee that she decided to join mechanical engineering out of passion. With the need for gender equality, Nakazi thinks that joining the mechanics world is a step closer towards gender equality.
She however explained that her parents were against this move but they later came onboard after discovering that she really loves the course.
"We the ladies are the same people who are asking for women emancipation, fighting for equality, so I'm very okay with it. I had many options (other courses) but I chose mechanical engineering." Nakazi said.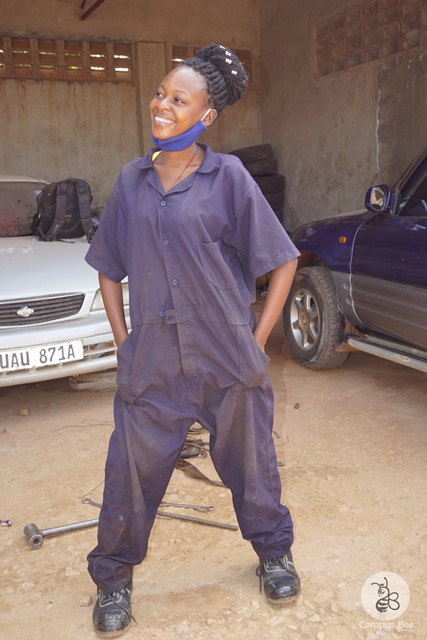 Brian Karate, one of the happy clients of Ssejjuuko Motors disclosed that the mentioned garage is place he would recommend any day for people who want to fix their cars. He also applauded the professionalism of the team at Ssejjuuko Motors.
"For sure I have never regretted, their work is so excellent, they are professional, and they have some unique features." Karate confessed.
Ssejuuko, who looks at expanding the business premises in 5 years to come also plans to hire more employees when the business grows. Just like many Ugandans, his business was also affected by COVID-19 since all private and public means of transport were put to hold for three months. Even after easing the lockdown, Ssejjuuko is still affected by the curfew that stops him from working at night. You can contact Ssejjuuko on 0778363811.
Watch the detailed interview in the video below;
Comments