A number of girls especially at university level tend to fear to show up for their interests in different activities because of the environment they live in, which takes them as silent voices. This puts them in danger of facing both financial and social related problems.
A number of women activists such as Hon. Miria Matembe have come up to motivate their fellow females to be assertive, and this has transformed many including a one Resty Nabaggala.
Ms Nabaggala is a second year student pursuing Bachelor of Business Administration (BBA) at Mbarara University of Science and Technology (MUST) who has mentored a number of students through equipping them with both economic and social skills.
As she was in her first year June- July holiday, she saw a need of supplementing on her upkeep and the only approach to this was to engage her friends in making stationery materials such as books, having realized that there is a high demand for notebooks among university students, lucky enough she had an Old Boy who had the skills of book making. `
Putting shyness aside, when she reported back to campus in August of 2019, Nabaggala started vending notebooks around campus starting with her course mates.
"As a girl, I had a lot of requirements and I would not stress my mum to provide me with everything since am not the only one at home.  When I realized that one of my OBs knows how to make books, I informed him about the market for notebooks among campusers which he applauded. During the holiday, we made as many notebooks as possible surprisingly when I took them to campus all of them were sold in a few days. God has been on our side because even up to now the business still goes on smoothly,'' She told Campus Bee.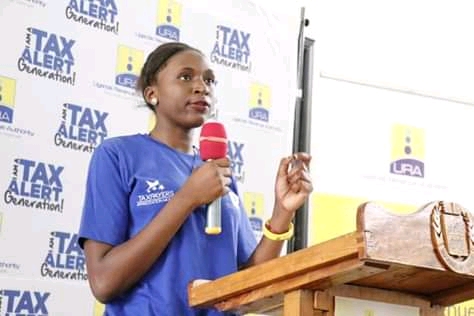 When it comes to promotion of girl child rights, Nabaggala has been involved in a number of activities with the aim of empowering her fellow ladies to know their rights. She is part of the YALI unites, a global organization with a great cause of promoting and advocating for women and girl child rights, sensitizing about gender based violence and promotion of transparency. She is part of HIV Institutional Policy (HIP) a forum within MUST that advocates for rights of positive living where she serves as the Vice Coordinator.
Having participated in Uganda Revenue Authority Tax Debate in November of last year, she was elected as a treasurer for URA Tax society MUST chapter, that impart a tax paying culture into the youth and providing necessary information about URA and taxes in South Western Region of Uganda.
Get in touch with her on Facebook at Resty Nabaggala Morel
Comments