The love for being self-employed while at campus is finally paying off for a hard-working and a very optimistic Zakshir Umarshujah Kiyingi. Doing Bachelors in Management Science and currently in his 2nd year at Kyambogo University, Zakshir narrates his ordeal of hustling and having to foot his own bills while at campus. At 22 years, Zakshir owns a saloon, a songwriter who pens songs for top artistes and also takes some time off to actually sing his own songs although still anticipating for a breakthrough.
"I started working in a saloon before joining campus because I hate being jobless but by then it was not mine so i had my boss, I hustled a lot because I aimed at owning mine and I eventually made it," Kiyingi tells Campusbee how he managed to start his own saloon.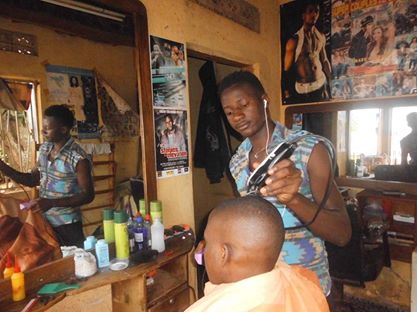 He added: "I don't specialize in one business, I have three different business, first of all I'm a musician, I work in my salon and lastly I also write songs and sell them to other talented musicians."
However, Kiyinji is disgruntled because of artistes who never aknowledge or give him credit in songs he has penned down.
"Right now the saloon helps me to survive and foots my tuition," the calm Kiyingji says.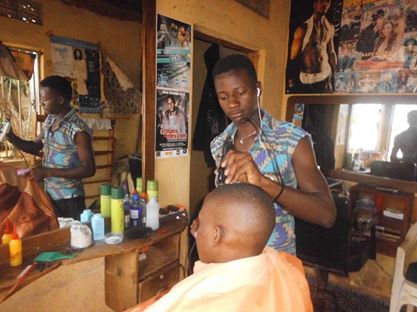 "Reaching this far was not an easy task and I acknowledge the amazing works of God who has been a pillar and my self-drive to handle tougher times ahead has also paid off," he adds.
Kiyinji shares with this website how he made it. "I made it because I knew it would be very hard for me to work for someone while handling my studies. So in a bid to be stress free, I set out to do something that would suit my area of expertise and here I am."
Kiyinji says that in his business, every day comes in with its luck; so some days he makes good money to a tune of shs70,000, profits and some days can get worse, hence getting customer at all.
"I really don't mind getting such on a bad day because I remain strong knowing that tomorrow, I will get even more," the optimistic Kiyinji laments.
Asked about the challenges he faces as a hustler, Kiyingi who was attending to a customer at his Banda based Saloon was quick at telling this Campusbee reporter that the only challenges he is faces are the constant power blackouts and unfair KCCA taxes that emanate at all times.
"When I am done with my lectures, this is where I run to and roll out my hustle," the joyous student tells this website.
Comments