Dennis Nyanzi, a 4th year medical student in UCU School of Medicine in Mengo is out challenge students who think that doing a high ranking course eliminates need for a side hustle. Apparently, Dennis started decorating used wine bottles in the early lockdown of 2020 to generate income.
Background
Having done some art in his high-school, the talented medical student didn't have a lot of hardships in getting his side business started. While at home for the lockdown, he realized that there were many wine bottles taking up space at home. He thought of how best he could get rid of them without throwing them. That's when the idea of Bottle Decor Uganda was born.
With the little capital of less than 50k, he bought the first set of threads/yarn, glue and he started. Dennis admits that he had seen some bottle designs before, but they were not the kind of work he wanted to make.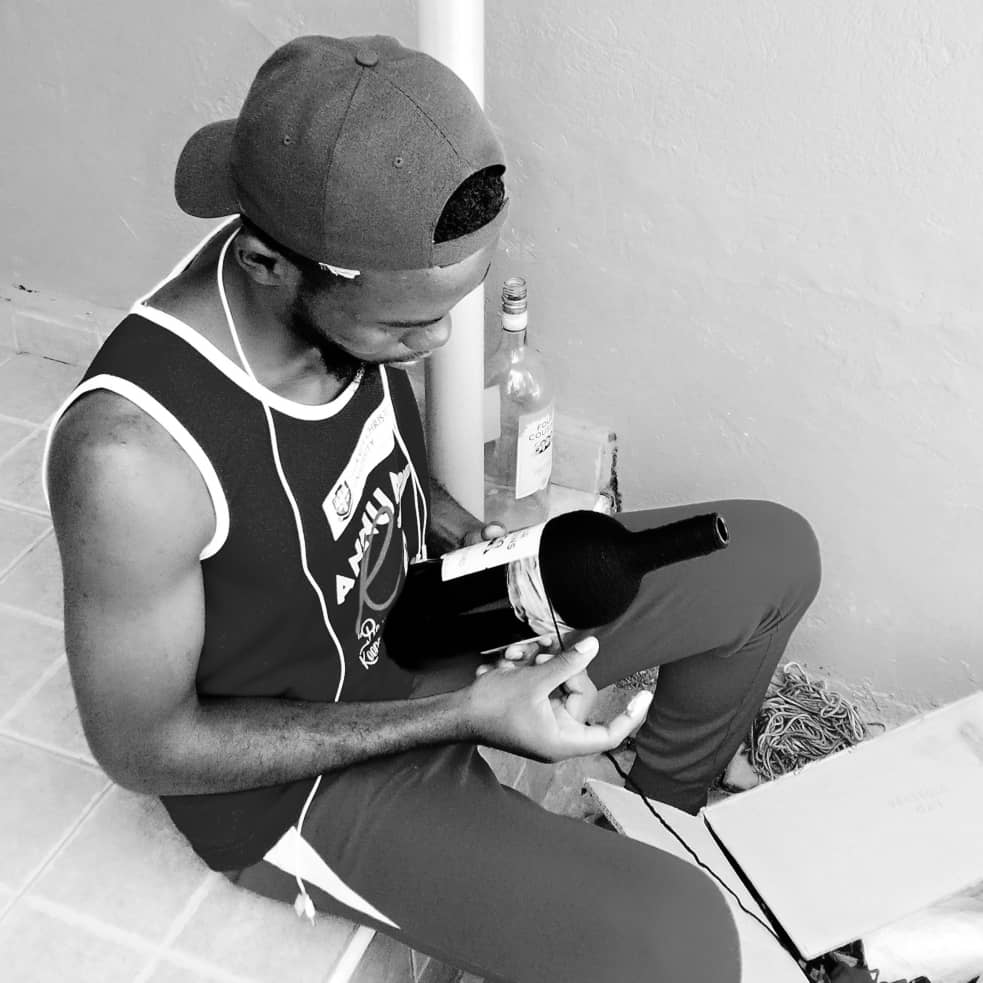 Process
Dennis cleans dirty wine bottles and attaches thread to them using wood glue. He does this according to the client's preferences of color in the orders. In the end, a well-designed set is generated and ready for adding accessories. He uses accessories like old earrings, buttons and artificial flowers to add value to the designed set.
Benefits and lessons learnt
-He's made friends from the business. This is because a good number of people reached out to him to offer bottles free of charge.
-Patience pays. That's the look on his face when you talk to him, and we believe this has been a factor in this successful business.
-The money collected has supplemented his tuition and helped him to buy some instruments necessary for his study in MedSchool.
-Enriched his digital marketing skills. When you take a look at the Bottle Decor Uganda Instagram and Facebook pages, you will be amazed at how much a medic can do on social media.
-There is no business without a loss. Dennis recalls when he made a good number of losses when he was beginning. To him, this was a stepping stone because there were better days to come.
Challenges
-Expensive data. This comes in a time where social media is relevant for any business to thrive in the digital era. To Dennis, the expensive costs make it hard for his clients to see his work, but also for him to regularly access the pages.
-Unreliable clients. Some clients usually make orders and they go numb, this means that the set will be a loss if the client didn't leave a deposit.
Future prospects
Nyanzi hopes to continue doing the business whenever he can because it's something that he loves. He wants Ugandans to appreciate local art more. He is working hard to have that one set that you will buy for your office, bedroom, restaurant, living room or just as a gift to friend. He is willing to give free advice to anyone interested in knowing something about the same. In case you want to make an order for a bottle decor set, here is ac contact; 0704209362 (calls/whatsapp) or tap the links below for more info.
https://www.instagram.com/bottle_decor_ug/
https://m.facebook.com/Bottle-Decor-Uganda-540174160236245/
More of Dennis' work;
Comments