On Monday, 10th April 2017, the five presidential aspirants in the MUBS guild race met to debate in a bid to prove that they are worthy of the students' votes. The debate took place in the ADB building from 2pm to about 5:30pm. It was moderated by Jordan Tumwesigye, the president law school, Makerere University, who in his remarks stated that there's no room for hooligans in debate. He also voiced out, `MUBS has very beautiful girls.'
All the five presidential guild aspirants; Emmanuel Awori Siryoyi (UYD), Walter Nuwagaba Kakuru (FDC), Rachael Korituha (NRM), Akibu Mugoya (Independent), and Israel Katamba (Independent), turned up.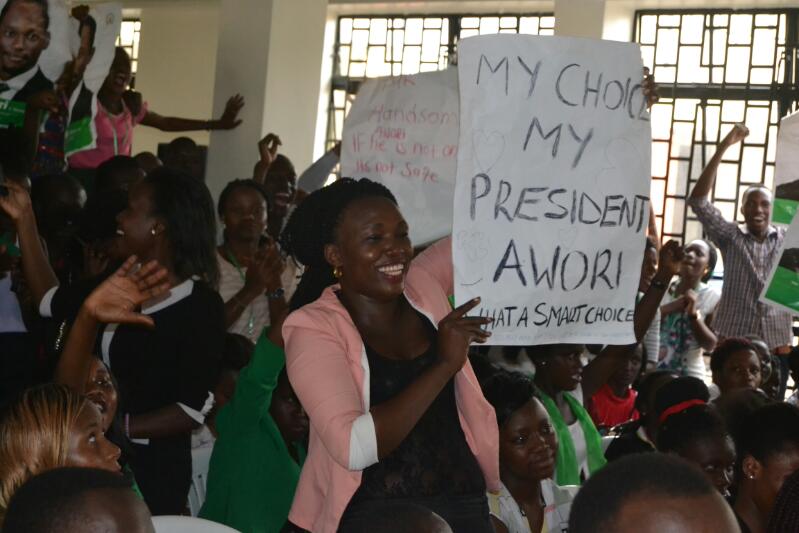 By midday, students, eager to show their support for their candidates, were already taking seats in the ADB building. Seats were, however, limited and a great number of students were forced to stand through the debate. This, however, did not deter the students from being witness to the debate. The room was packed beyond capacity and for that matter, very stuffy. Students were very rowdy and kept chanting candidates' names making it almost impossible to listen to what was being said.
Candidates were requested over and over again to inform their supporters to calm down so as to have an actual debate rather than a rally.
Regardless of the chaos, various issues were debated upon by the presidential guild aspirants. The relevance of the guild president to students, the issue of missing marks and how exactly it should be handled, how to deal with the issue of sexually transmitted marks, sanitation, inadequate seats in the library, the students' need for WiFi and retake policy issued talked about. The aspirants also talked about how each of them would handle the issue of accountability and transparency in case they happened to attain the position of guild president.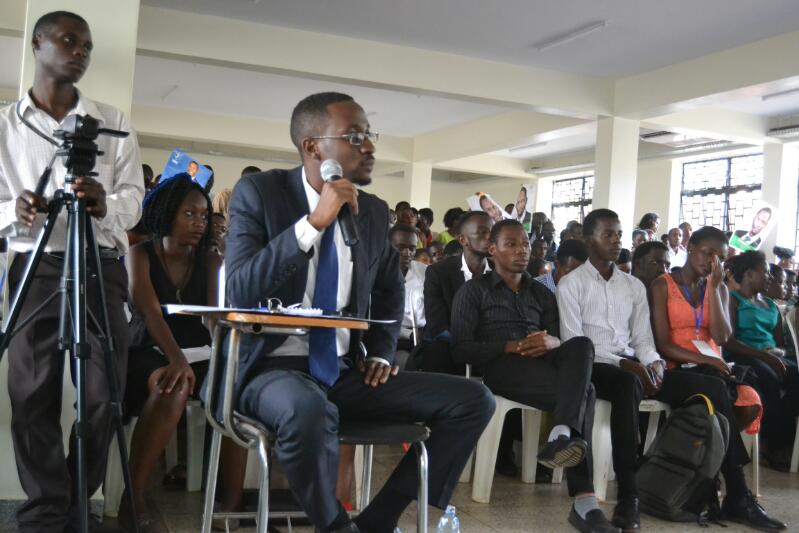 The candidates confidently voiced their ideologies. Awori put forth an impressive performance; he kept referring to his manifesto which includes things such as teamwork, availability of leaders, partnerships between MUBS and different companies something which the rest of the aspirants somehow forgot to do. He also managed to answer the `how' question which was a question of how exactly he would achieve his goals as a guild president.
Nuwagaba talked about things he'd do as a leader basing on the situational questions asked quite impressively but did not relate to his manifesto. At the end of the day, it's hard to pinpoint what exactly is in his manifesto.
Mugoya somehow managed to amuse the crowd with his ideologies. For example, he believes the administration should not pin up results of students as a group, but rather print individual results for each student to pick from their respective faculties.
Korituha and Katamba somehow faded to the background of the debate although they tried to put forth their ideologies. The question of who won the debate, however, is one that is to be answered depending on individual perception.
The candidates were urged to do more revision in preparation for their next debate which will be live on Urban TV next week Tuesday, 18th April 2017. Students were encouraged to follow the debate on TV so as to be able to cast a well thought through vote.