Meet Erima Augustine Adrabo, a resolute and compassionate student pursuing a bachelor's degree in Medical Laboratory Science at Mbarara University of Science and Technology (MUST).
With an unwavering passion for serving others, Erima's dedication to his fellow students and the university community knows no bounds.
Despite facing setbacks in the past, his indomitable spirit and commitment to his vision have set him apart as a true leader, determined to make a difference in the lives of those around him.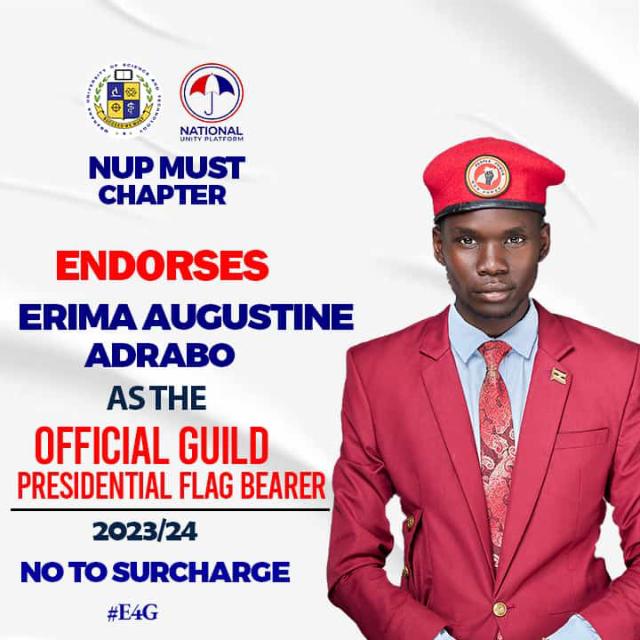 Last year, as an independent candidate, he contested in the guild presidential elections with unwavering hope and enthusiasm. However, despite his tireless efforts, he fell short of the victory he had envisioned as he garnered 292 votes. Other candidates might have felt defeated and disheartened, but not Erima. Rather than succumbing to disappointment, he saw this setback as an opportunity to learn and grow.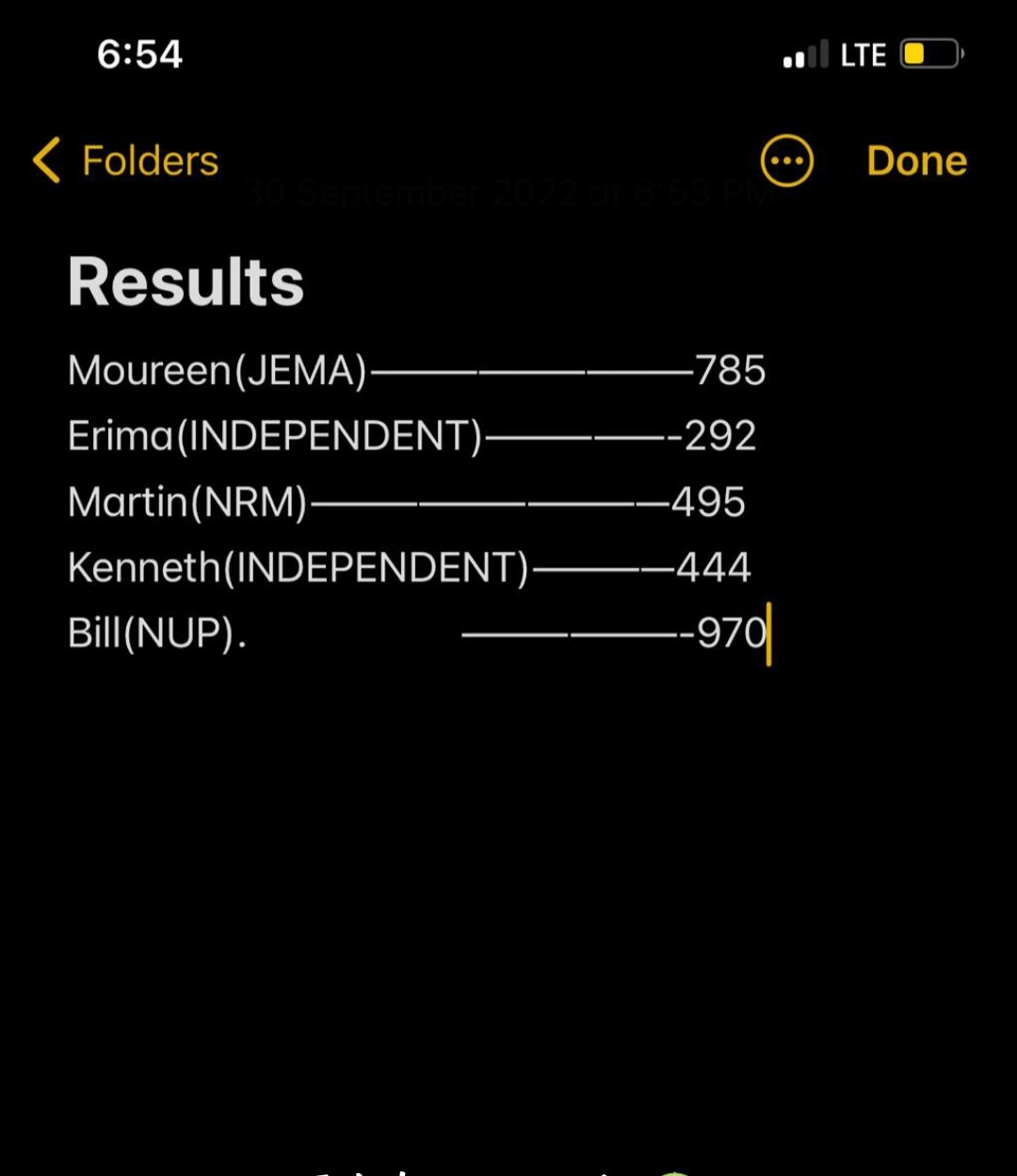 Undeterred by defeat, Erima found the strength to carry on. He continued to serve MUST students wholeheartedly, involving himself in various campus activities and organizations. With every endeavor, he sought to build connections and understand the needs of the student body better.
This year, as the Guild elections season approached once again, Erima's determination has remained steadfast. He joined the National Unity Platform (NUP) and contested in the primaries for the guild presidential elections. Despite fierce competition from two other candidates, Erima's authenticity, dedication, and unwavering vision resonated with the students. The primaries turned out to be a life-changing moment for Erima. He emerged victorious, becoming the official party flag bearer with 141 votes against his competitor who obtained 141 votes.
The chairperson of the NUP MUST chapter, Emuron Gavaseous congratulated Erima for his success and he described him as a multifaceted leader with unqiue blend of experiences.
"His charisma and ability to connect with people have earned him widespread support. Beyond politics, Erima's artistic prowess brings creativity and innovation to his approach. With Erima at the helm, MUST students find a dynamic and resourceful leader ready to make a lasting impact,'' he described.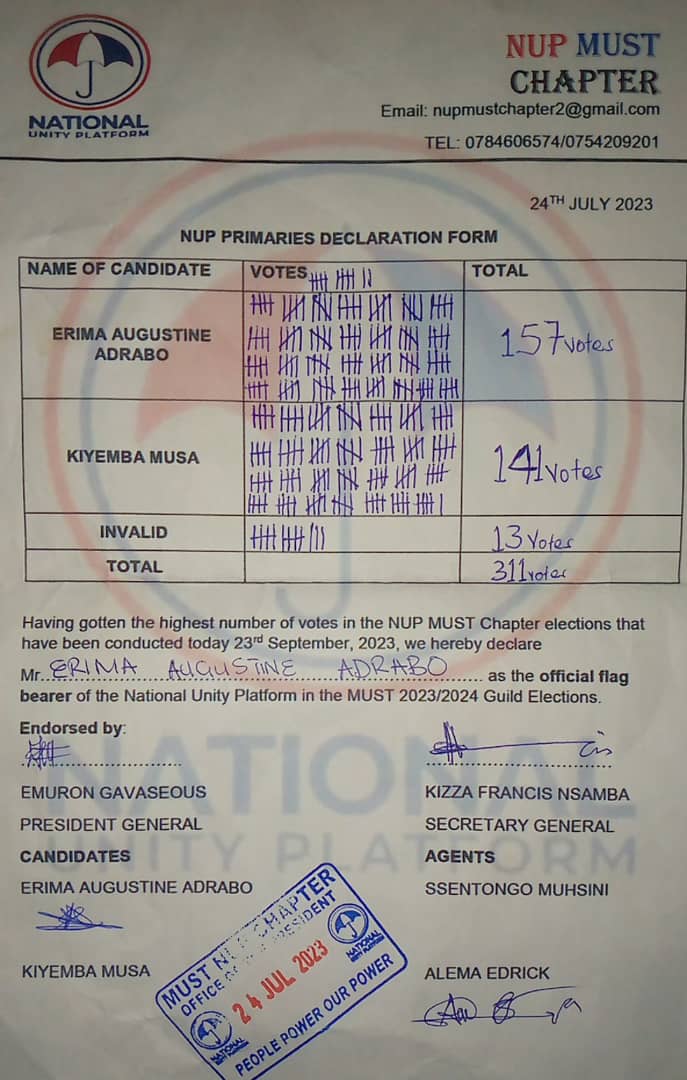 According to students at MUST, it was a well-deserved recognition of his commitment and resilience.
''Throughout the rigorous campaign period, Erima stayed true to himself and his principles. He chose not to engage in smear campaigns or divisive tactics but instead focused on promoting unity and progress. His campaign speeches were filled with empathy, understanding, and concrete plans to address the students' concerns,'' Mark informed Campus Bee
''Erima's story spread beyond the university campus, inspiring countless individuals facing their own trials and tribulations. He became a symbol of hope, proving that setbacks do not define a person's worth or potential. Instead, it is our courage to rise again and push forward that sets apart true leaders and change-makers,'' Anitah one of the students at MUST echoed.
Today, as Erima campaigns for becoming the 35th guild president of Mbarara University of Science and Technology, he carries with him the aspirations of his fellow students. His journey is a reminder to never give up on our dreams, to persist in the face of adversity, and to serve others with a heart full of compassion.
Erima's legacy will continue to inspire generations of students to come, showing them that with determination and steadfastness, anything is possible.
MUST students will cast their votes on Friday August 4th to determine their next guild president replacing Bill Clinton Nasasira.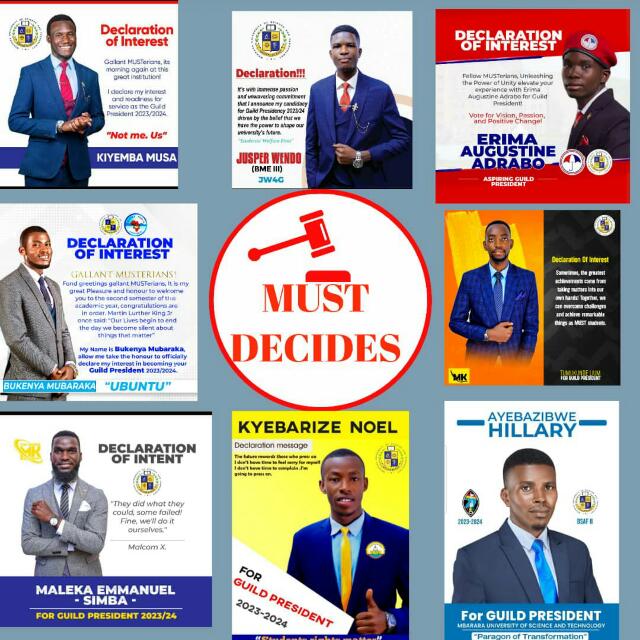 A poster showing all nominated candidates vying for MUST guild presidency
Comments