You know Mun-g, the skinny chap with hilarious lyrics in his songs. No? Ok I know you do but you are also shying away like the crowd that was supposed to fill kati kati to the brim in attendance to a launch he dubbed Sejusa a 2weeks back but didn't show up. Those rude fans, they threw his launch in the toilet and flashed hastily.
For a show that started at 7:00pm, Kati Kati space was supposed to be filled by 9:00pm but you know Ugandans, they give you a long ladder so you can climb so high and just when you feel you are about to touch the sky, they remove it and watch you plunge as they smile while sipping on red label on the other side of the sea in which you are going to fall. That's what Mun-G's fans did to him as the space wasn't even half full (or half empty, whatever gongs your bell) at that time which prompted the organizers to usher the revelers that had already paid to the V.I.P and entrance to the ordinary section was made free.
It was made free because they realized that at 9:00pm, the number wouldn't increase and the place was almost empty so to appease the sponsors and the musician himself, the people doing get collections were instructed to make the entrance free so a bunch of high school kids probably from nearby hangouts  would come in and fill up the space. The bunch of youths when tipped about the free entrance flocked Kati Kati space but their numbers were also not enough to fill the space half way.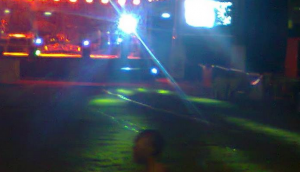 By 11pm, the venue was as empty as this!
But that couldn't deter the show from going on anyway so artists like 4gsejusa-concertb, Tommy rays, Michel ross, G.N.L Sheeba Karungi performed to the little crowd. They energetically pulled off all their performances but the crowd seemed less bothered, they started wishing they hadn't paid, or had they?
To see Michel Ross doing his well-choreographed dance strokes was a good view but without ululations, it was a bad view, they had to pretend they didn't like it.
"He didn't advertise a lot, how did he expect people to come," Dixon Okello the security events manager said before actually intimating that there was no security to handle because there were no people so he sat and ate chicken as he watched over the whole show from one point, the entrance.
Anyways, the flopped show also had artists like Chameleon starting the hype to what I presume will be next year's battle of the champions. They both performed their bragging songs as chameleon sung, sorry mimed "owakabi" and Bebe Cool did Tomalira budde before both concluding their performances with a line of malice in direction of the other.
Mun-g was supposed to step onto stage at around 10:00pm (I know so because I called him and he intimated so) but much to his dismay, the band refused to perform citing payment reasons. He was seen fighting with the band members back stage and when he realized they were serious, he stepped onto stage to perform one song after which he lied to the crowd that the band members were sick and apologized for having to mime but the crowd understood because most of them were high scholars who were used to him performing like that.
He was emotional, this lad, his eyes almost giving way to the liquid that had wetted his eyes but like the man he is, the born fighter (if you know that song), sobbingly said, "Kijja Kugwa" and didn't shade a tear.
He performed several other songs like his duet with Don MC, "Yes yes", "Namalaayo", Ebintu, Zinna, Sesetula (a song that brought big trill and G.N.L Zamba back onto stage) and concluded with Sejjusa
In Uganda, whatever transpired at Mun-g's concert is called a FLOP. There haven't been many flops this year and while Maro's and Nince henry's launches are good competitors, the sejjusa concert takes it all. It is officially awarded the flop of the year.
Comments