Of all photos of Nelson Mandela's funeral, these may somewhat be the most important. Danish Prime Minister Helle Thorning-Schmidt, who has a reputation for being a 'A HUSBAD SNATCHER' seems to be flirting with the U.S. President, Barrack Obama.
Michelle Obama, on the other hand, looks really, really irritated. Whether that's because she is sad Mandela died or she's put off by people flirting with her man, we don't know! Check this photos out, Mitchelle had to sit in-between the two. (Now campus girls, this is how your protect your man!)
Mitchelle watches them closely, now that's what we call an irritated look!
"Ahem! if you give me some, the white house will surely become yours"-Obama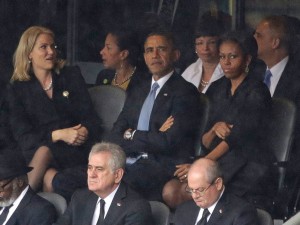 It seems Mitchelle sounded a warning!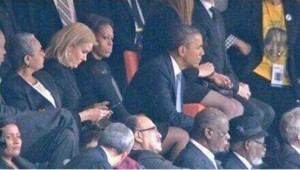 When they refuse to listen, just switch seats!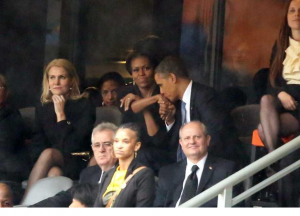 Yes he's mine!
Feel free to let us know what you think of this drama at a legend's funeral in our comments box below.
Comments