Bharti Airtel Africa, a leading telecommunications service provider with operations in 20 countries across Asia and Africa, has today announced Yaya Touré as the new African face for its upcoming continental campaign.
Airtel's partnership with the Ivory Coast's captain and Manchester City's midfield will launch the brand's "It's Now" campaign which seeks to nurture and grow talent in Africa through various consumer touchpoints such as sports, lifestyle and music while providing customers with access to connectivity and technological solutions that will enable them explore opportunities around them.
Airtel Africa Chief Executive Officer, Christian de Faria, said that the campaign reiterates the company's commitment to support the youth in Africa as well as drive economic growth by unlocking people's potential.
"We are excited to be signing the pact with Mr. Touré who is respected in Africa and beyond. As the first player to win African Player of the Year four consecutive times,  Touré is an inspiration to everyone working to achieve their potential and striving to be their best every day," said Mr. de Faria.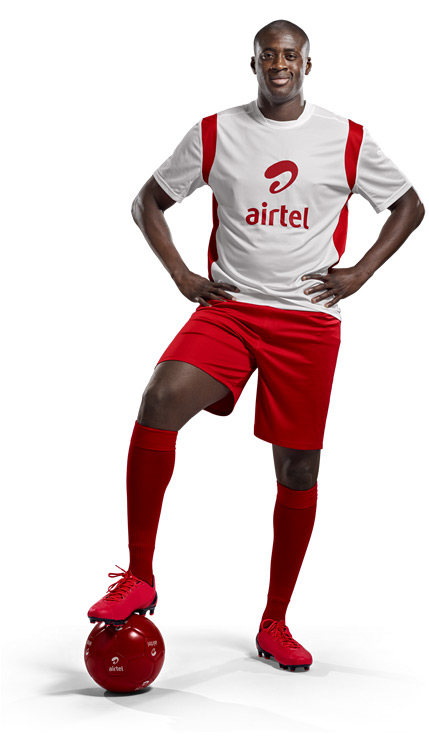 Speaking on his partnership with Airtel Africa, Mr. Touré said, "Throughout my career I have been fortunate to have a great deal of success on the field. However, I know that the strongest performances come only when you commit 100 percent to the task at hand and display the strength and mettle to give it your all.  "It's Now" is a campaign that is close to my heart as it calls on Africans to embrace the opportunities around them to better their lives. I am glad to be working with Airtel, with its wide reach within Africa, in order to inspire many people."
The partnership will see Mr. Touré support Airtel's corporate social responsibility particularly in youth empowerment for development.
Having entered the African market in 2010, Airtel Africa has steadily increased its customer base in Africa to reach over 70 million people. Airtel currently has Africa's widest 3G footprint across 17 countries, coupled with the widest mobile commerce footprint in Africa with Airtel Money.
About Bharti Airtel                       
Bharti Airtel Limited is a leading global telecommunications company with operations in 20 countries across Asia and Africa. Headquartered in New Delhi, India, the company ranks amongst the top 4 mobile service providers globally in terms of subscribers. In India, the company's product offerings include 2G, 3G and 4G wireless services, mobile commerce, fixed line services, high speed DSL broadband, IPTV, DTH, enterprise services including national & international long distance services to carriers. In the rest of the geographies, it offers 2G, 3G and 4G wireless services and mobile commerce. Bharti Airtel had over 324 million customers across its operations at the end of March 2015. To know more please visit, www.airtel.com
Comments