One of our real fine people Nassali Betty also known as Bettinah Tianah was duped of a 'Balenciaga' pair of shoes as she ranted in a post on her social media.
Last week, the Cavendish University final year student flew to South Africa together with a few other delegates to bring the world cup trophy home on a Coca Cola world cup tour. We all must remember the shoe she was talking about that cost her 2.8M. Y'all must have been thinking it was a pair of heels or some very sophisticated shoe but Oh well! It was a rare pair of "BALEMCYAGA".
"FinePeopleFromUganda I need a refund bruh, how didn't I notice that this shoe retailer repped me off 2.8M for BALEMCYAGA. This is the reason why I only buy my shoes from the UK. #LastMinuteShoppingIsTheworst #MyCapeTownTripDidThisToMe " Bettinah posted.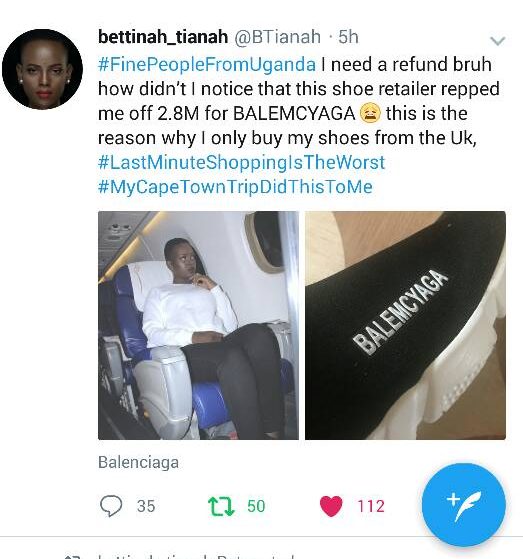 Any other person would not have minded considering it's a legit duplicate except for the label. But hey, this is a fashion critique and slay queen. Everything matters to her.
However, one can't stop to wonder why it took her 7 solid days before she realized it was a fake shoe. You cannot pay 2.8M in today's Uganda and not look critically at the shoe before you even wear it or later on pack it.