Makerere University Vice Chancellor, Prof. Barnabas Nawangwe has suspended students' organized elections which were to be conducted today Tuesday, August 9,2022.
These elections were organized by the 88thh Electoral Commission and students were expected to cast their votes to get a new Guild president.
According to the letter issued by the VC, no elections are expected to take place this semester and thus urged students to instead focus on their academics in preparation for the forthcoming end of 2021/2022 academic year examinations.
"I would like to remind the Electoral Commission that any move to hold elections this semester contrary to the resolutions by the University will have serious consequences to you as an individual," Prof. Nawangwe warned the EC.
Prof Nawangwe as well confirmed that there will be no elections this semester.
"The University Management would like to reaffirm that there will be no elections this semester and hereby call upon all students of Makerere University to prepare for the forthcoming examinations," he urged.
Prof. Nawangwe encouraged all guild aspirants to focus on their books, the main reason for joining the university.
Ms. Lorna Magara, the Chairperson of the University Council suspended guild elections following the chaos that was exhibited last month during the final guild rally at the University's Rugby grounds that claimed the life of Betungura Bewatte, who was a student of Bachelor of Laws at Uganda Christian University- Kampala campus.
She in addition banned the students' leadership and suspended political parties at Makerere University until further notice.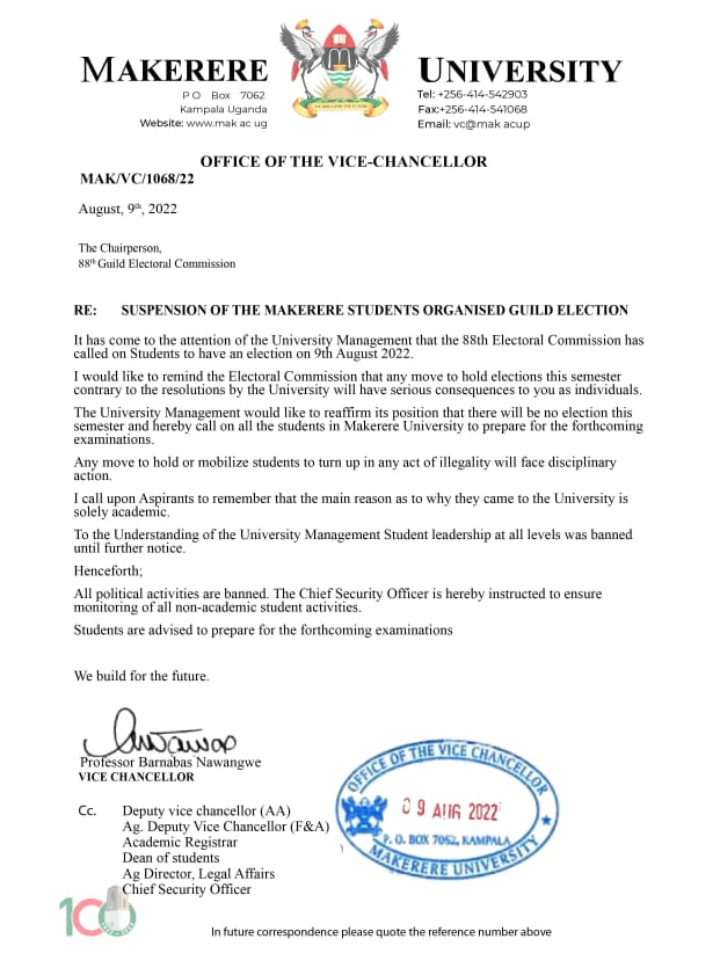 Comments