It has been brought to our attention that a former Uganda Christian University student, Akandwanaho Trevor has publicly revealed that he is getting married to his former lecturer, Ajuna Dianah Byaruhanga, in a wedding slated to take place on Saturday 22nd February 2020 at St. Luke Church of Uganda, Ntinda.
Akandwanaho Trevor was a student at Uganda Christian University between 2014 and 2018 and pursued a Bachelor's of Law, further joining Law Development Center (LDC) in the academic year 2018/2019.
Trevor's wife to be, Ajuna Dianah Byaruhanga, is a lecturer of Law at both Uganda Christian University and Nkumba University where she teaches various course modules among which, Cybercrime, law of tort. She is also an enrolled advocate of the High Court of Uganda.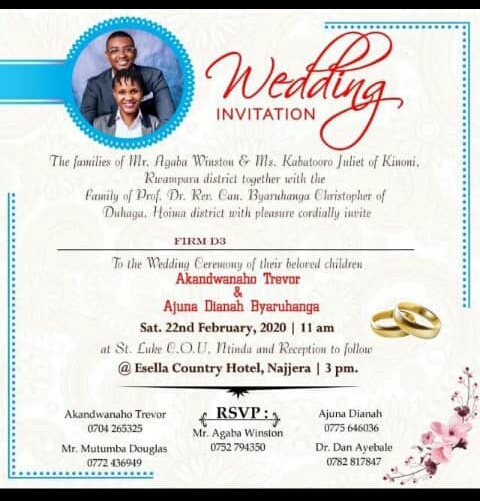 It's no surprise they are both in the law sector, and their bond has been evident all the way from University, and it is at this time of the year they have chosen to officially tie the knot.
We wish them all the best in their marriage. Stick around for more updates as we dig deep into this.