EMMY OMONGIN
In 2012, Anita Kyarimpa Fabiola won Miss High School in the Kadanke National Schools Championships. In her senior six, at London College of St Lawrence, Fabiola won herself a scholarship for one year and of course the bragging rights of Miss High School Kadanke.
She'd later garner support and a whole lot of confidence to vie for the top most beauty crown in the country; Miss Uganda 2013/2014. Fabiola was the youngest among myriads of girls who had showed up to contest for Miss Uganda, Western Region- which she unanimously won. The then 18-year-old would later travel to Kampala to tussle it out with the finest girls in the country in the grande finale of this prestigious beauty pageant.  Fabiola was unfortunately beaten to the crown by Stella Nantumbwe but emerged first runner-up.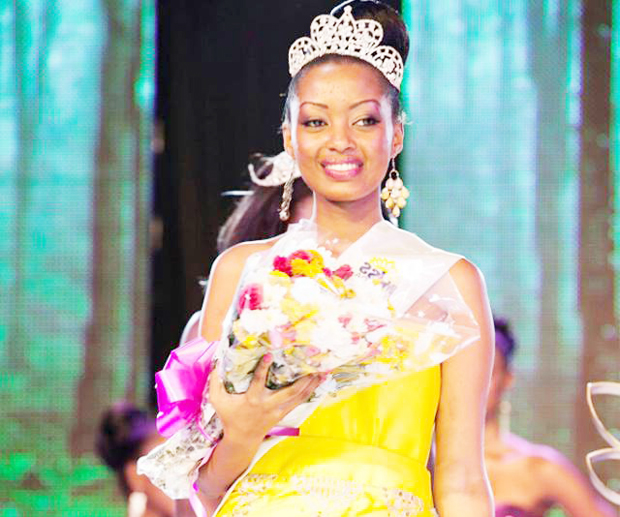 The year 2014 came and she had to join campus. She was successfully admitted at the biggest public University in Uganda (Makerere) and was offered a bachelor's degree in Mass Communication. She'd then become a 'practicing journalist' a few months into school after she was offered a juicy deal of hosting the "Be My Date" show on the most watched television station in the country- NTV Uganda.
"Be My Date" has since become a house hold name and was voted the most watched entertainment television programme by university students. Everyone would look forward to Sunday evenings. Some, to actually enjoy the fun that comes with naive, local, wannabes that show up looking for dates on the show, others, just to stare at Fabiola's hips ( we are still consulting Google on the whereabouts of those hips in the nudes).
Does Fabiola attend lectures?
Journalism students at MUK tip Campusbee that Fabiola is rarely seen at journalism school. Fame seemingly got to this girl's veins…she had no time for studies (since she has been fired, we hope she gets more time for her books). Landing the "Be My Date" presenting job saw her sign a couple of deals  like getting a temporal gig at Capital FM, scooping an acting deal in the Bollywood movie; Luzira: Escape from Uganda, MCing gigs, a spokesperson job for PTMOF,a charity organisation for Teen Mothers in Uganda et al.
Of course all these deals came with hefty sums of money (Yes, more deals, more money…this is more obvious than finding an elephant in a pack of rats). She became the hot cake in town…The gorgeous, luscious, succulent girl a man would sell his plot of land just to have a taste of. She had her moments (we all do)…She had fun but forgot one thing- leaving out the face while taking nudes…You never do that, Never! Is she blonde? Who am we to judge?
Then came the tormentor
On January 31 2015, Anita Fabiola lost her phone while she was in town. Two weeks later, she started receiving WhatsApp images of herself nude. She swore to friends that she would not let her nudes leak. We are reliably informed that Fabiola did all she could to avoid them from getting to even one WhatsApp group in town (we all know the virility stuff gets when it makes its way into just one WhatsApp group)- including paying this tormentor shs7m in the presence of a CID officer to delete those nude photos, which according to our very reliable sources, were DELETED!
This website reported that story: Anita Fabiola Buys off Nudes from Blackmailer  
Vision Group Tabloid, The Kampala Sun, would later jump on that story to do a more thorough investigation, which led to more shocking revelations, including rent arrears being demanded by this student's landlord. She was then residing in an apartment in Kiwatule.
The Kampala Sun went on to expose the filth, drunkenness and the drugs dominated life of Anita Fabiola. Like it is with the media, that ship sailed. The storm cleared and allover a sudden Fabiola was living a life- a life where she had no worries about her nudes leaking any time or even her landlord knocking on her door demanding for her rent arrears (since she evacuated that apartment).
And then came last week, A RedPepper Tabloid dubbed Hello! published Anita Fabiola's nudies, embarrassing bathroom photos flagged on its front page. Fabiola was shocked, bewildered……very confused- she was thrown out of balance! Within a few hours, her nudes were the talk of town. WhatsApp was abuzz with these nudies.
She seemed strong. Friends talked to her and she would answer with this; "I am strong hun." Not until she received an email on Tuesday afternoon from the NTV Uganda HR manager, Solomon Muhiirwa ordering her to resign, because, apparently, she was tainting the Nation Media Group brand.
One question, however, remains unaswered. Who leaked Anita Fabiola's Nudes?