Uganda Christian University (UCU) student Sheena Tasha Bagaine has been dragged to court over rape accusations she made at the beginning of the year using social media platform, Twitter.
Bagaine, who uses the handle @sheena_sheenzy, accused several men in Uganda for sexual offences made against several girls that she claimed would contact her inbox to reveal their stories.
Among them was Carlton Douglas Kasirye, a graduand of law from Makerere University and a student at the Law Development Centre (LDC). Kasirye, using his lawyers of Simon Tendo Kabenge (STEK) Advocates has filed a letter of intention to sue for libel and defamation and demands Shs 2 Billion in damages.
Among the co-accused was XFM Radio presenter Denzel, Rapper Ruyonga, and Byg Kahuna.
"So here we are. This thread is exposing rapists and rape apologists! Feel free to add yours in case I missed out some. I will be sharing stories and names according to the DMs I received. Some are heartbreaking but a friend can be another woman's abuser. I hope you're shaking," Ms. Bageine tweeted on 2nd January, 2020 at 5:18 pm.
In his legal redress letter, Mr Kasirye demands the said amount of money for the defamation he claims, deletion of the defamatory tweets, apologise for making false comments among other things.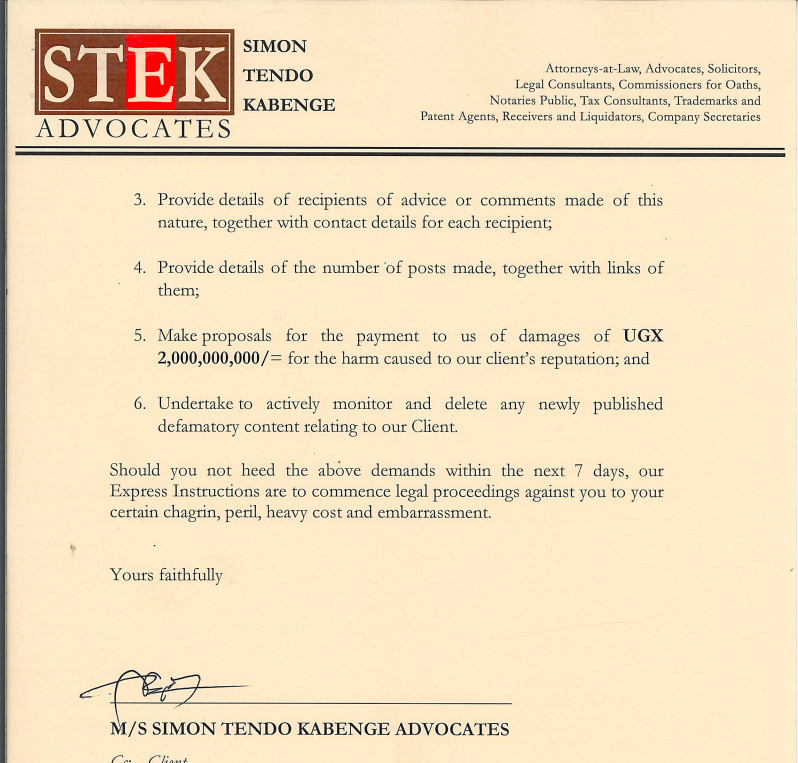 "We demand that unless you remove from publication and the defamatory threads complained of to prevent further damage to our client, produce an apology and declaration that the allegations were false, provide details of recipients of advice or comments made of this nature and make proposals for payment to us of damages of UGX 2,000,000,000," the lawyers' letter reads.