Slay queening has become the order of the day all over campuses and in towns. The fake eyebrows, booty pads, fake accent and many more characteristics of these fame obsessed girls is nothing to the gorgeous Victoria Kiyonga. She is the kind that you would ultimately want to term as a slay queen literally but in the real sense she has got a lot more than a slay queen can handle.
Her flawless beauty
The distinction between physical attractiveness and true beauty is something that has not been explored. A glance at her will give you a clear cut difference between the two with no hair left out of place. She has got the suntanned glowing skin that makes you believe she has never been to a cosmetics shop. Her slightly big eyes, darker and narrower eyebrows make you want to stare at her all the time.  It is more like a charm not forgetting the higher cheek bones, thinner lids and with that narrow nose that depicts true beauty. She is the kind that will go swimming with no fear of what her skin will look like after that dive.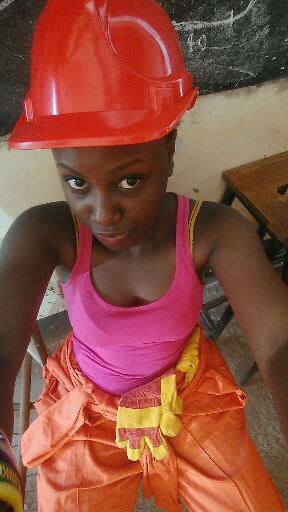 She has got ambition
She is not the kind that wakes up at mid-day all in the name of checking how many inboxes she's got to read further on, forget about those slay dreams of "I want to have 3 houses one in London, get married to Zuckerbergs's son "etcetera. She is one bright hard working girl pursuing a Bachelors of Bio systems engineering. You have got to believe, only ladies with big brains and strong character can match up to this. She is focused in all she does and perhaps the ultimate girl that you watch in the movies.
She is real……………….
Whether in church, class or at the party, the queen has got her groove on. She has that all round character that keeps me wanting to write about her. Currently a dancer for the "Baganda Nkobazambogo" in preparation for cultural gala competitions, you wonder how much a pretty face would be down to earth. She has got all girls crushing on her.  She is very passionate about making friends and respects everybody she comes across in their various capacities. Of course she has that nice accent (not forged) that keeps you wanting to listen.
She is a fashionista
Whether at the construction site, streets of Gulu or hanging out at the luxurious fun places in Gulu, this girl has her wardrobe to the point.. She is the goddess of fashion and the ultimate would be face of Uganda. Her fashion is daring yet descent. She knows her body so well and thank God it's the voluptuous kind, in that that everything fits just perfectly. She has got nothing like a bad hair day on her calendar and she leaves onlookers yearning for more and more.
BY CLARE NASSUUNA