They think it's for rich kids!
Each room is self contained and has it's independent balcony excluding the 5 "caves" on the A side block.
Enough space for climbing trees. (Just chill in one of the reading rooms when your roomie decides to host their better half)
The free WiFi is bought.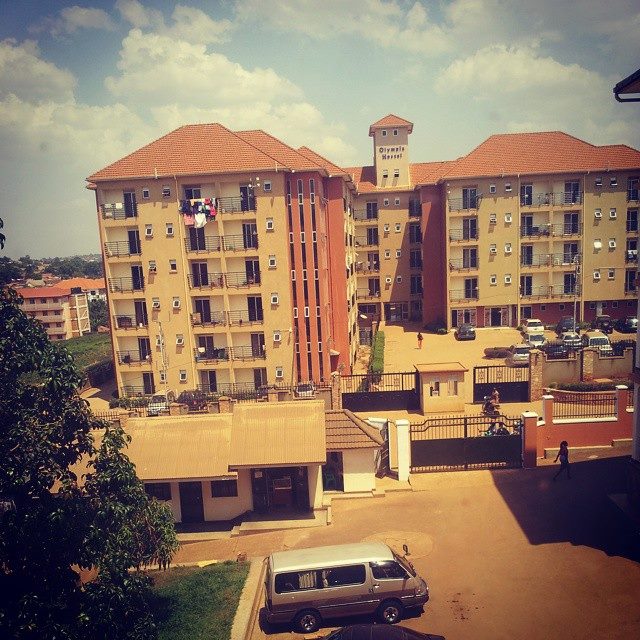 The super powers given to cleaners are over-whelming. Those ladies have the capacity to bounce you once you step on a floor they have just cleaned.
Have your guy/babe in Olympia and cool is your third name.
Dstv in all rooms subscribed with on point channels.
Delish restaurant is Bae (Buffet about to be three course as sources have it). Y'all know what it feels like having a THREE COURSE meal at hostel.
I think all the dudes I've seen are insanely cute. Most of whom study at CEDAT.
In case you have no hoofers, all is catered for; next door always plays loud music
The male custodians are abnormally sweet. Female olympians will tell you how.
Taught to be responsible and upright; 50k to replace a lock, 100k if you go home for holidays with a key.
Full of show offs; I get time to mingle and fit in.
Too many rides in the parking, no worry about the shuttle leaving you. You'll always get a lift.
The swimming pool exists. No one really uses it, I just love the rate at which the events there flop.
The drama, I.e. "weed ish, whorelympia reports…now overly rated sex. ahhh….me…I'm just cool with it."
Oh, no lousy jazz when inside the span twin shuttles, you either are taking a fancy call (not in local language, have jazz like "I'm sending u point six in a few") or shut the fuck up.
Olympia has its exclusive "boda" stage! Not cheap at all. I swear residents of MISH can't afford them.
We have a gym!!!!! And oh a salon.
Olympia has a supermarket.
Solidarity among Olympians. They tend to say hi on the ramp only if they know you
Askaris understand its population. Sweet heart! If your piece looks 10k, they will aggressively call u back to sign in. (The babes are slaying hot)
"Gene" Olympia is the best of its kind around and outside the prestigious Makerere University.
How I love Olympia!!