By Jemimah Emasu
Info@campusbee.ug
1. He is the glutton. All he does is consume, consume and CONSUME but
never wants to contribute a single coin to buy snacks or food for the
room….
2. He is like that big bully from high school who made you dread
beginning of term… He turns you into the servant… you even mop the
shower! All in the name of being in good terms with this big
bully…..
3. He is no different from a pig in a pig sty! The room is ever topsy
turvy thanks to him. Air freshner can't effeciently work for your room
as the stench is so concentrated and soon becoming permanent. Your
efforts to organise and clean up are put to waste as the 'pig' will
come stain it with his mud as always!
4. He is responsible for your missing property. Your things begin to
mysteriously disappear and you wonder since when non-living things
acquired legs!!!!!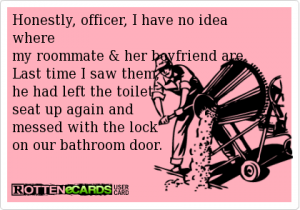 5. The room has demarcations. You aint to cross to his side neither
touch his things. However, for him he is entitled to everything in the
room…. Speak of the miser room-mate!
6. Majority nights you are displaced from the room because he has
girls coming to sleep over. Monday, girl ; X Tuesday, girl Z and the
list    goes on til Sunday probably! You however, are not allowed to do
the same.
7.  Every night is a party for him. Friday night is no different from
a Monday night for him! You hardly get sleep as he comes banging at
the door in the wee hours of the night. Worse still, he throws drink
ups whenever he wants to, even if its at 3am when your asleep….