After receiving various applications from Makerere students interested in running for Guild presidency in the upcoming guild elections at Makerere, the University's electoral commission has released a provisional list for some of the confirmed candidates.
According to a statement issued by the Makerere EC, 14 candidates have been already confirmed to run for the Guild President seat as three others are still under scrutiny. The confirmed candidates include Ahimbisibwe Prize, Bayube Bruno, Chiluba Fredrick, Isabirye Dan, Kasumba Javiira Joe, Kinene Edward Ssemakula, Lwamaza Silver, Namuganza Florence, Nuwataho Samuel, Obbo Johnson Emmanuel, Paapa Were Salim, Semanda Arnold, Taliwaku Andrew Julian, Turyasingura Henry. Three candidates of Ainebyona Ronald, Andama Fred Afro, and Onesmus Mutumba George are still pending.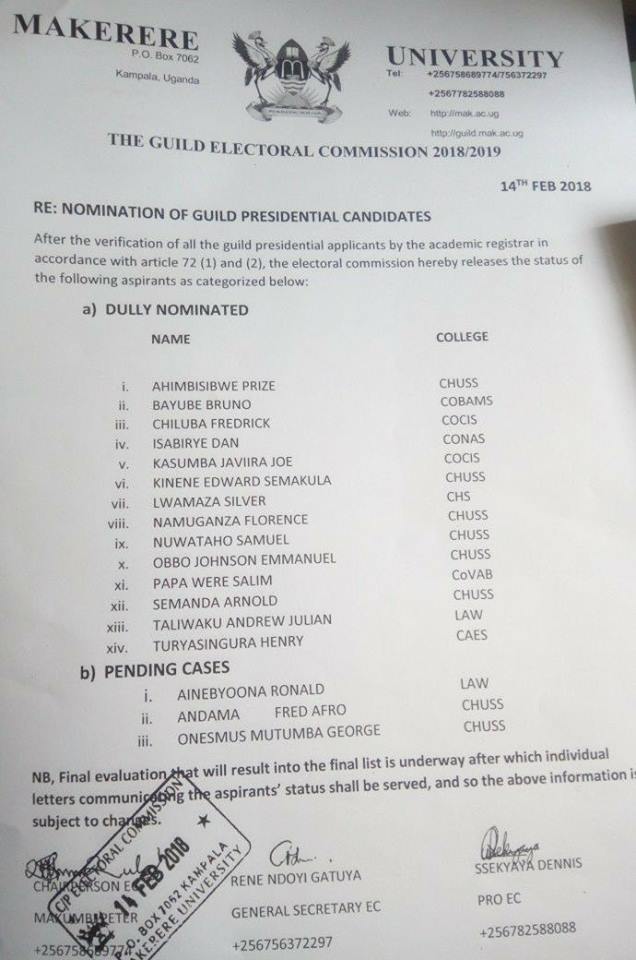 The Makerere electoral commission has also released a timetable when and where the debates, rallies will be held.
Here is the time table;