Victims of acid attack violence, usually termed as acid survivors, on Monday, the 26th March, stormed the Nakawa Chief Magistrates Court protesting the grant of bail to a one James Kazungu Alupo, a lecturer from the faculty of Civil Engineering at Kyambogo University who was arrested for pouring acid on his lover.
Kazungu was charged with attempted murder and domestic violence in the Chief Magistrates Court. According to the testimony of the lover, Ms. Angole two weeks ago, Kazungu attacked her and poured acid on her face in October last year after she had ended a relationship with him. The matter then was adjourned for the 26th March where the court was to hear the bail application made by the accused, which the court granted.
The acid survivors clad in T-shirts with the words "Together for an acid free Violence Uganda", a slogan belonging to the End Acid Violence in Uganda (EAV), a local NGO determined to fight acid attacks that are on the rise in the country protested the grant of bail.
To the protestors, granting the attackers bail exposes the victim to potential harm from the perpetrator who will be at large.
The Acid Attacks (Prevention and Prohibition) Bill, 2017
The John Sentamu Institute for Human Rights and Humanitarian Law an institute under the faculty of law of Uganda Christian University drafted "The Acid Attacks (Prevention and Prohibition) Bill, 2017" that is yet to be tabled before parliament.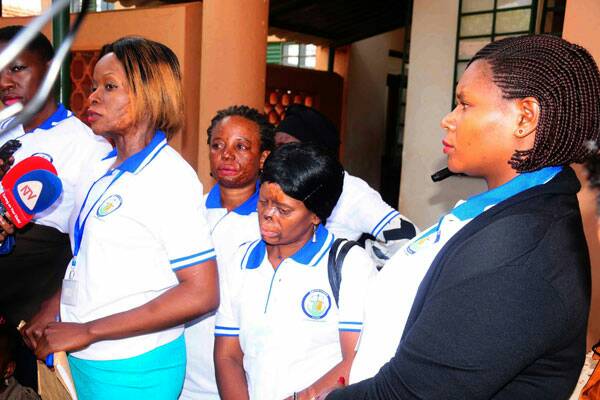 Ms. Roselyn Karugonjo Ssegawa, the executive director of the Institute informed Campus Bee that the process to have the bill is on-going, and it is after this that it will be tabled before the parliament for subsequent passing.
"The process to have the bill is still on going," she says.
The long title of the bill provides that it is "An Act to provide for the criminalization of Acid Attacks as a distinct offence, to provide for the protection and relief of victims of acid attacks; to provide for the punishment of perpetrators" among other motivations.
The acid survivors are not satisfied with the way cases involving acid are prosecuted in the courts which will be made better by the passing of the bill.
"Although the Prevention of Acid Attacks Bill has not yet been tabled in Parliament, as victims we are not satisfied with the way our cases are handled" says Ms Linnet Kirungi, the programmes director at EAV in a story run by the Daily Monitor. She went on to add that when perpetrators like Kazungu are granted bail, the victims leave in fear of threats from the attackers.
Acid survirvors are optimistic that once the new law is tabled and passed by the parliament, it would be a positive step towards combatting acid attacks in the country.
Kazungu's case was adjourned for 18th April, 2018 for the next hearing date.
Comments