Begumya Nkabafunzaki Rushongoza is one of the most favourite poets at Makerere University at the moment, he is a third year student of Law and a great debator. Our writer Steven Nuwagira caught up with him on issues among others his poetry, life, beliefs and ideals. Here are the excerpts;
Briefly, talk about yourself please. How did your journey with poetry start?
My name is Begumya Nkabafunzaki Rushongoza. The name is longer but I understand there is a word count on the article and I don't want to use 90% of the space with just my name.
I am a law student. I am a writer, poet, producer (ish ish) and lover of chappattis. [Really sir, really?]
My journey as a poet began with a girl. I had been writing in A – level. I wrote two plays and two novels in O – Level. But in A – level I focused more on poetry, and I used to write a poems and share them with classmates. I used to write poems for my friends who would send them to their girlfriends in mail. I went to a grand debate at one school and I met a girl. As we talked I discovered the next day was her birthday. So I wrote her a poem in a letter when I got back to school. She loved it and began to share poetry that her classmates did through mail. Eventually she invited me to perform at a poetry show that her friends were organizing. I suppose that's how my journey started.
You have humour. Okay, poetry is, I would say, a fresh genre in Uganda's entertainment industry. How has the experience been so far?
I don't agree that poetry is new here. Our oral traditions are packed with poetry. Name any traditional song and you will see the poetry in it. We have poetry in traditional religion and even in the Bible. David and Solomon were poets in their own right. Our music is packed with poetry, one of the best examples of this is kadongo kamu. There is a lot of poetry in nature. We have had writers and poets since before the 1960s. Akena Adoko, Okot p'Bitek, Henry Barlow are examples.
But if you are talking performance poetry as we know it, then maybe you a little right.
The experience has been fire. I have written a collection of poems that sold out, have done big stages everywhere and even had a one man show, I am in studio working on an audio album but most importantly, I have met amazing people along the way that have added a lot of value to my life.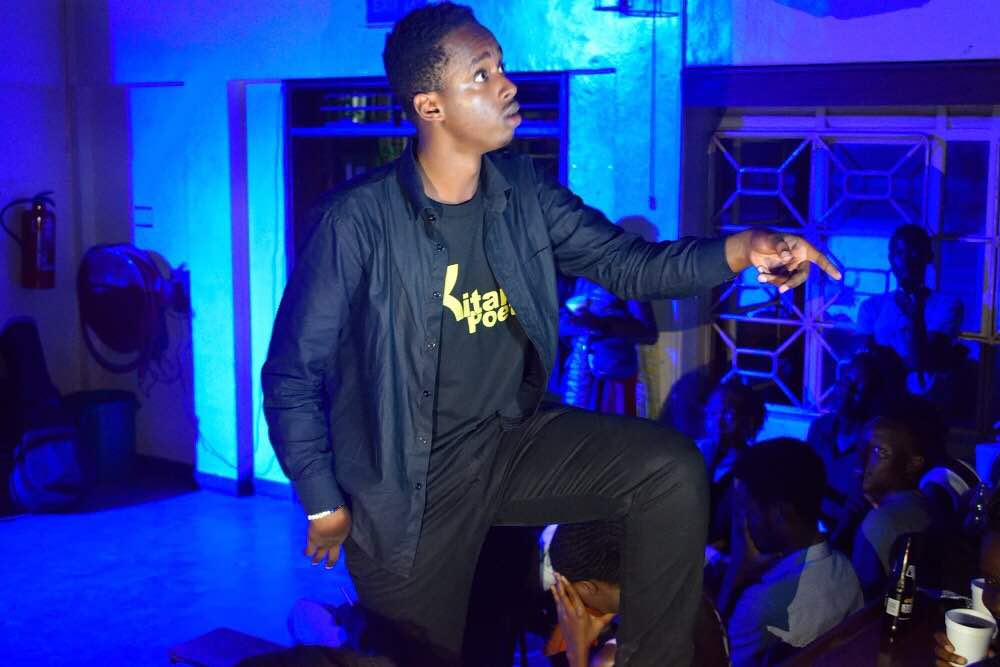 Well, it is clear, you appeal mostly to the elite. Are there any plans to diversify the market?
I think maybe because I have been writing in English, it comes off that way. I am currently working on my new collection "Nyowe" (I), and most of the poetry will be in Runyankore and Rutooro, the languages of my people. I think long term, I will be writing more in indigenous languages; I find them more rich, more musical, and they tell my story better.
Your twitter handle is @Kitara_Kid and you wear 'Kitara Poet' shirts often times. Did you found/start Kitara Nation?
I didn't. Peter Kagayi did. He shared his idea with me and I was totally hooked. One of the things he discussed with me is that this country should never have been called Uganda. Because we know that that is a product of British mispronounciation of Buganda. "This country should have been called Kitara, because this area was once the kingdom of Kitara" he said.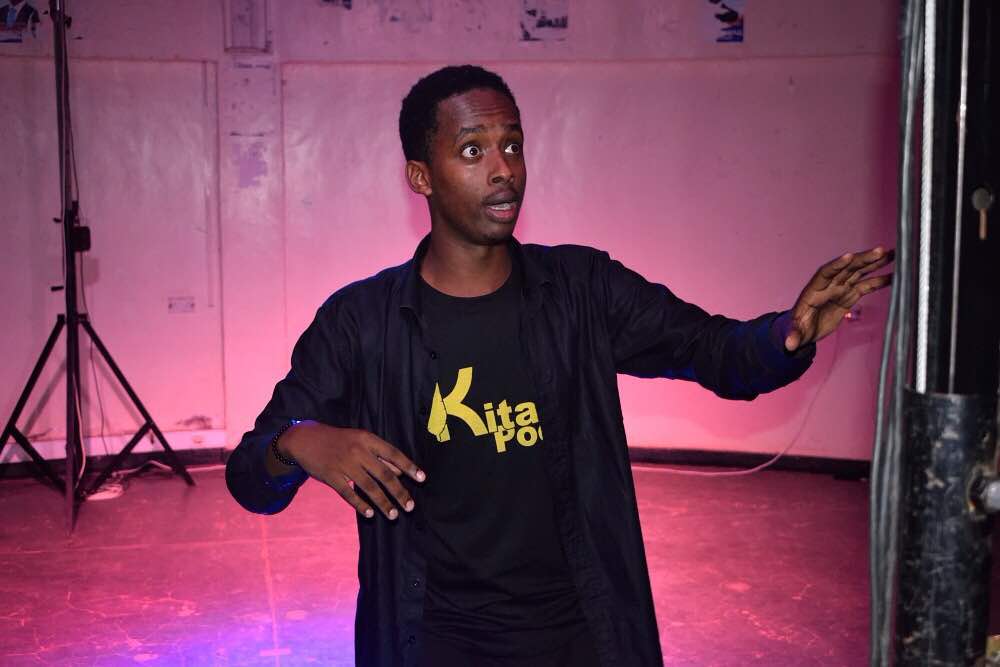 But yes, I am part of Kitara Nation, which is a group of writers and performers. We share the view that we need to write in our languages and learn about our cultures and preserve them. We intend to have a publishing house in the future. But for now, that's where we are. I am just so blessed to work with the people there, they have taught me so much and they are family.
In one of your works, you mock yourself sarcastically and relate your body shape to a woman's. Actually, you seem to suggest some elements term it as a deformity. To what extent does your outlook guide and/or affect your life and works?
This is a tough one. I am a story teller. I write about things that I see and as I see them. It is true that I have "feminine" features. Although I disagree that those features are a monopoly of women. Growing up I was ridiculed for my appearance. I have got terrible names, and I have even been called gay. It still happens when I walk around town or even on campus. I used to hide inside baggy clothes, it's only until last year that I bought my first pair of shorts. Also I have been called a Munyarwanda, and people have told me how I am going to be burnt if there is a regime change.
Talking controversy, you presented a paper in the Makerere Debate Union about sexual orientation and I have seen you passionately defend gay people on a separate platform. How is life in a highly homophobic society while advocating for gay rights?
I think that the price of being on the right side of history is being on the wrong side of popular opinion.
It is difficult. I must admit. I get cat called, insulted, demonized, and some people say I have been bribed. Yet I am broke as hell. Yet I too get lost in Muyenga.
And it is not just my advocacy for gay rights. I am a firm believer in the equality of women. That too has got me in many bad books.
But my cause stregethens me. I know am doing the right thing. The backlash doesn't matter. Since when have good things come without resistance. Jesus once asks the disciples "if they have done all this to me, the Son Of God, think what more they will do to you."
So it is difficult, but my calling is to truth. And I can't stop.
Do you have a girlfriend? What is your love life like, aside the poetry?
Sadly I don't. I have been single for a long long time. Maybe 2 or 3 years. Maybe longer. I have had a few almosts.
But I am here waiting for her. Writing about her. I think she is coming, probably just stuck in traffic or something. Let me use this interview to tell her to hurry the heck up, because her wine is getting warm.
Back to poetry, how are you initiating fresh talent? Do you recruit regularly or Kitara Nation nolonger admits talent?
I can't speak on behalf of Kitara Nation about this, but yes we have had new talent come in.
The biggest way I have helped on new talent is to create platforms for young poets. I organize the Annual Ben Kiwanuka Memorial Poetry Night. I work with Kitara nation and we do great stuff with poets in school. I helped a lot with Kelele at Makerere which is a poetry space that happens in MUK every 2 Fridays. I also work with 2Verse6 that organizes monthly poetry shows at Wizarts Ntinda. I am always looking out for new talent, young performers, reading and responding to their work, giving advice, although I myself am still growing and am not yet "established" too.
So about the Ben Kiwanuka Memorial Poetry Night that you organised, what is the aim basically? Tell us more about it.
The night is to remember Ben Kiwanuka, former Chief Justice and Prime Minister Of Uganda. He was killed by the government of President Amin because he refused to pander its whims. We feel it is important to celebrate our heroes, but also use the time to recall, rethink and relearn. To remember our history and and share ideas on the future. This year's show discussed social justice and was in Memory Of Revence Kalibwani who died at the hands of a mob. We used poetry to talk about the many injustices in society. The show is organized by the Makerere Law Society, and not me. The turn out was impressive and we got positive comments about the poetry. We are excited for next year.
That affects me and my views and fears, my pain, my message to all who suffer my same struggle finds itself in my work. I don't know how to do otherwise. My poetry is all I have. I put everything in the poetry. I use it to tell my story, and speak to everyone with the same pain and insecurities.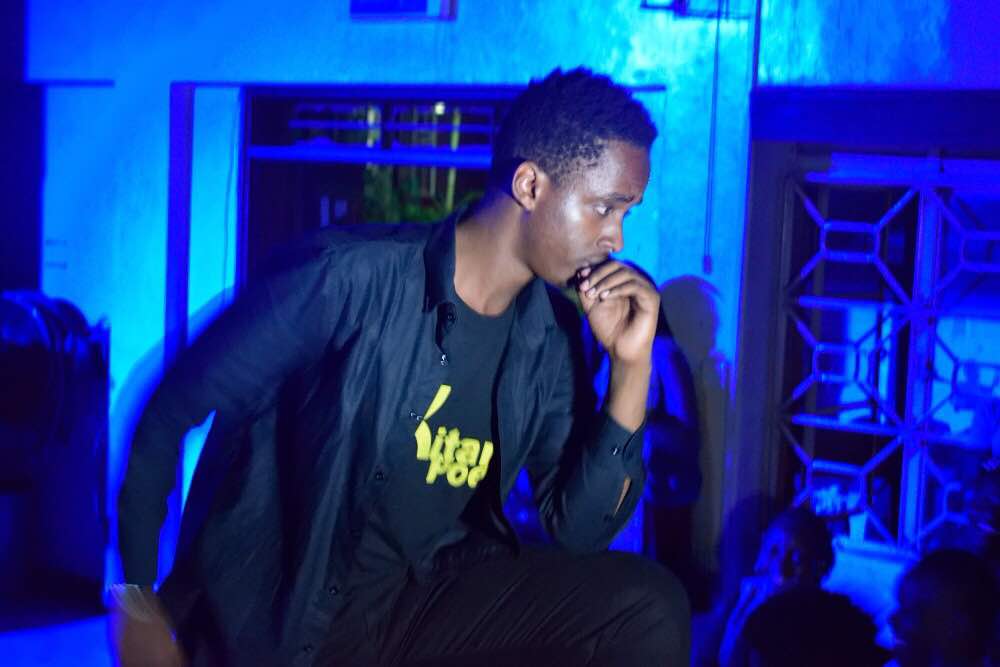 It is definate you are an avid reader. Your peers have most times termed your opinions controversial and some even say you idolise veteran journalist Andrew Mwenda. Do you fancy a life like his?
Me and Andrew are friends. I look up to him. He is a father figure. I have learnt volumes from him.
But to answer your question. I love to read, mostly because I love to learn, to question my views, to unlearn and re-learn. If I hold the same views without questioning their basis constantly, and being open to new views and ideas I think I die the worst kind of death. Death by ignorance.
But it is not true that I am controversial, I am just open minded, and people who don't understand the importance of this usually classify me that way.
Similarly, it is also not true that all I do is read. I like pork, play station, music, late night dancing in the bar and cake.
If there were any gay students at the university who are probably scared for their lives and cant come out, what would be your message to them?
I think that people underestimate how many gay people exist in this country. I have always said that in Homosexuality, one is not always exclusive to heterosexuality. So someone can be in a relationship with a girl but have sexual interactions with a boy and vice versa. So many times our people think that because someone is dating or married he is not gay.
But to answer your question, my message would be to everyone in campus. To ask them not to create an environment that's hostile to anyone. Why should you kill someone or beat them or excommunicate them simply because of what they believe in? Isn't that the same reason why victims of rape don't come out? So my message would be to all members of campus, to love people regardless and not beat up or assault gay students.
To our politicians and legislators to create a national discussion on this matter. Our guild leaders should do the same. We should cultivate a culture of dialogue. We should let gay people speak out, and once we have heard their story with an open mind and peacefully, we can decide on whether to amend our laws on this or not.
Lastly, what message do you have for youths and admirers out there? [I am careful not to say fans.]
I will just use one statement from a poem I did,
"Why conform, when you can be?"
Chase your dreams. Invest in people. Be as happy as you can, give no room to fear and insecurities. Go out there and live.