Renown BBC journalist, Allan Kasujja, has pledged shs500,000 as next semester's tuition fees for Kampala International University (KIU) Student for saving the life of his friend, Iryn Namubiru, who nearly drowned after a boat carrying partners capsized in Lake Victoria.
Namubiru on Tuesday revealed that Masole Brian a student at KIU who saved her life AND MANY others'. "He went back to the lake 3 times until there were no other people alive," the singer revealed.
Kasujja wrote; "Kati, let's remind Brian that good deeds pay," before going ahead to pledge shs500,000."
Namubiru promised to deliver Kasujja's pledge to heroic Masole.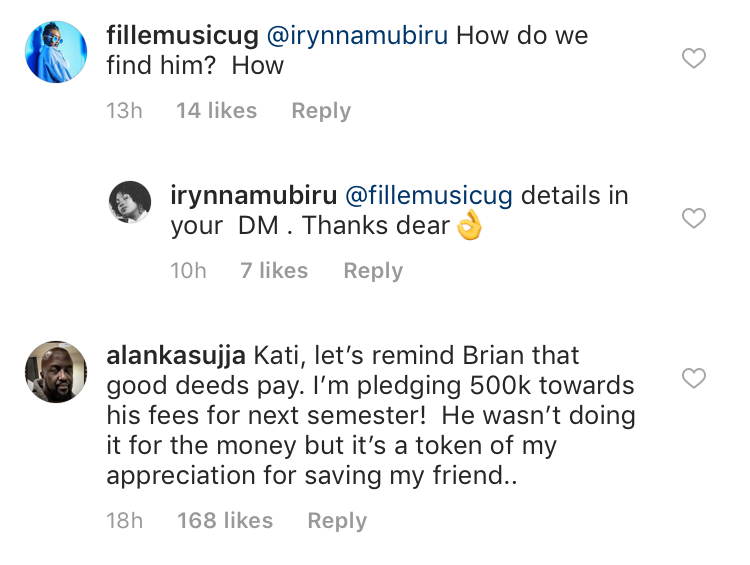 Masole and other fellow students had hired their boat to go have fun on the near by Islands. "When they heard and saw our boat capsizing, he quickly took his friends ashore and cane to rescue us.

He heard my distress calls for help as i saw other boats passing us by, saw the light of my phone that I kept waving up and came right to me. He asked me for the phone, bag and then pulled me in. Then he tried to pull the lady who came grabbing on my hand and life jacket almost drowning me.
I managed to bring her up to the boat but she died right there as part of her life jacket got stuck under the boat and she was to heavy. That was Mrs. BISASE owner of the boat. I left my phone with BRIAN which he used to save others and went straight to resuscitate a one SHYLLA NANKUNDA who must have died on the boat," the sonstress narrated how the KIU student saved her life.