Benezeri Wanjala Chibita is a young enthusiastic student/artiste who raps about issues affecting the youth and the general public; issues like corruption and mismanagement of public funds by government officials. We talked to him about his campus life and music.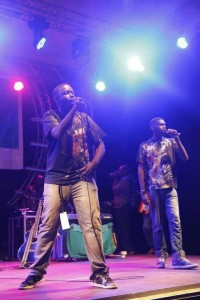 Benezeri performing with Ruyonga at the recent Mirrors Concert
Please tell us a bit about yourself
My name is Benezeri, a rap artiste. In 2nd year at Uganda Christian University studying Mass Communication.
Is that the course you had wished to pursue since childhood?
Yes, academically, this was the course I always wanted to pursue.
What do you make of drinkups?
Drink ups are a form of interaction for young people
What has been your best moment at Campus?
My best moment at campus has not yet happened. It will be when I graduate.
And worst?
My worst moment was when I got a retake.
On a typical Friday or Saturday Night, where does one find you?
On a typical Friday night I'm hard to find because my week has usualy been long. And I'd like to keep it that way hehe
What do you like about Campusers?
I like the fact that they are young, intelligent and creative!
Do you have specific lectures that you dread or chop?
I try not to intentionally chop lectures. And the times when I have, it has been due to unavoidable circumstances. I've never liked math but even then, I'll try to attend the maths course units to improve because  its my weakness.
Can you date your fellow course mate?
I wouldn't really mind dating a course mate if I'm attracted to her and the feeling is mutual and I feel like it's the right time and she is the right person. we'd date!
What do you think is the solution to strikes to most universities in UG?
The solution to strikes is in the leadership. There should be close interaction between the vice chancellor and students. The structures should change completely. The VC and his leadership should know how students feel every week and students should be comfortable to air out their grievances. The students should also have enough confidence in the leaders. And I think that is the secret behind UCUs absence of strikes.
Who do you look up to and why?
I look up to the late Steve Jobs, Kanye West and most importantly my parents, Mike and Monrica Chibita. Each of the above people is different and special. And I'm inspired by them.
Talk about your new Christmas song
#UgandanChristmas is my new song and it will be downloaded via  www.reverbnation.com/benezeri and www.soundcloud.com/benezeri by the end of December Friday 20.
And Finally, which varsity has the hottest babes and guys?
Most of the time I'm at UCU and many of the girls there are quite good looking. I can't speak for other universities but I'm pretty sure there are nice looking girls there as well. But I don't think we can generalize and say "UCU has the best" or "No, its MUBS". Each has. And besides, Girls From Kampala are hot, its just that people are yet to realize it.