On 3rd November 2015, Omollo Juma, the East African Youth Ambassador to Uganda and a third year student of law at Makerere University writes an appeal to the administrators of the School of Law, seeking to have re-marked his Course Law 2208 paper in which he had gotten 48%, two marks shy of the pass mark. A 48% mark means that Juma must retake the paper.
In that appeal, the student makes it clear that an expedient hearing is of the essence as he intends to contest in the following year's guild presidential election. Apart from receiving his petition, the administrators do nothing more, or so it appears. Not willing to resign to his fate, the pertinacious youth ambassador writes a second letter to the administrators in February this year, restating his request to be accorded a speedy hearing.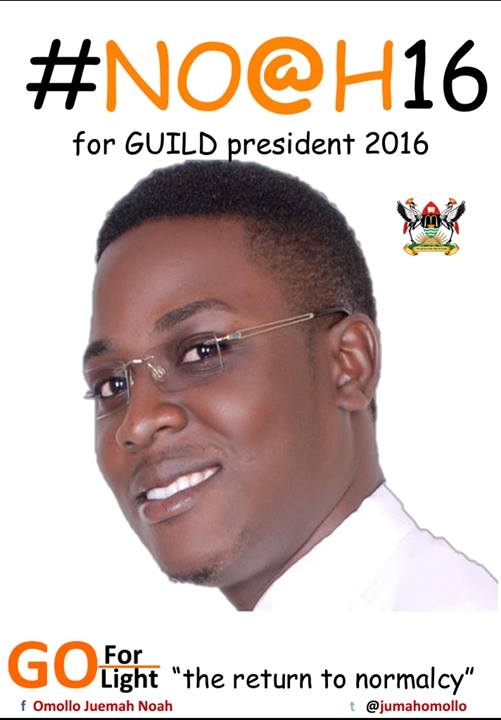 That letter, too, is ignored. A few days later, Juma picks, fills and returns nomination forms to contest for the Ivory Tower's highest students' office. When his name is forwarded to the Academic Registrar for verification of his academic records, the results of Course Law 2208 come back to haunt him. On 26 February, the Chairperson of Makerere's electoral commission writes to Juma, informing him that because of a pending retake in Course Law 2208, he is ineligible to contest for the guild. Is Juma's disqualification fair under the circumstances? Juma insists it's not.
To that end, he has dragged the university and its EC to Court, saying his disqualification was unlawful as he had been denied a fair hearing and prejudiced by the administrators at School of law who failed and/or refused to dispose of his appeal despite his repeated pleas to be heard. "In any case, as long as my appeal against the retake has not been determined and the marks confirmed or revised, the university cannot claim that I have the retake. Supposing tomorrow my appeal is heard and it's found that I indeed deserve better marks, is there any compensation the university can offer to compensate for the opportunity it would have unjustly robbed of me? It's like executing a death row convict when his appeal is still pending.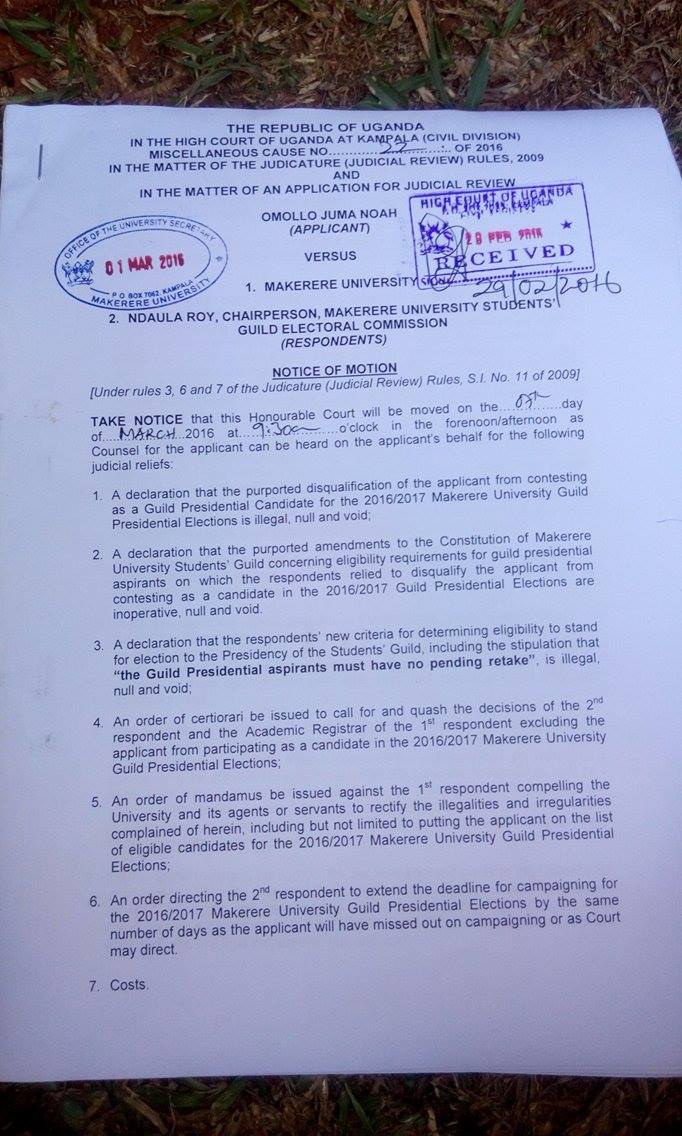 That would be a traversity of justice!" says Juma. In the case which comes up for hearing on 7th March, High Court MC No. 22 of 2016, Juma seeks a Court order directing the respondents to reinstate him in the race and a declaration that the new amendments setting the eligibility criteria for guild presidential aspirants, are inoperative, illegal, null and void. Juma argues that the new amendments under which he was disqualified were improperly passed by GRCs as students at Makerere were not consulted, contrary to the constitutional imperative of participatory democracy.
To make matters worse, the petition claims that the amendments were neither passed with the prerequisite quorum nor gazetted, and are to that end "inoperative, illegal, null and void." It should be noted that in 2015, the outgoing Guild president Bala David successfully challenged his disqualification from the race on the same grounds of the regulations in force at that time being ungazetted on the one hand, and denial of a fair hearing on the other. Juma is represented by Centre for Legal Aid, the same law firm which represented Bala in his 2015 case and has also handled a number of other cases involving students and their respective universities.
Comments