Ugandan Athlete Shida Leni of Bugema University has won silver at the World University Games in Naples, Italy. Having been knocked out in the semi-finals at the previosu editions in 2015 and 2017, Leni finally clinched a sport in the final and secured a silver medal.
Ms Leni finished her race at 51:64 seconds just a few seconds shy of the eventual winner Paola Errejon of Mexico who finished at 51:52 seconds in the Women's 400M race.
The youthful athlete who qualified for the World Athletic Championship that is scheduled for September this year in Doha, received praise and applaud from her coaches of the last six years Kevin and Sue O'Connor.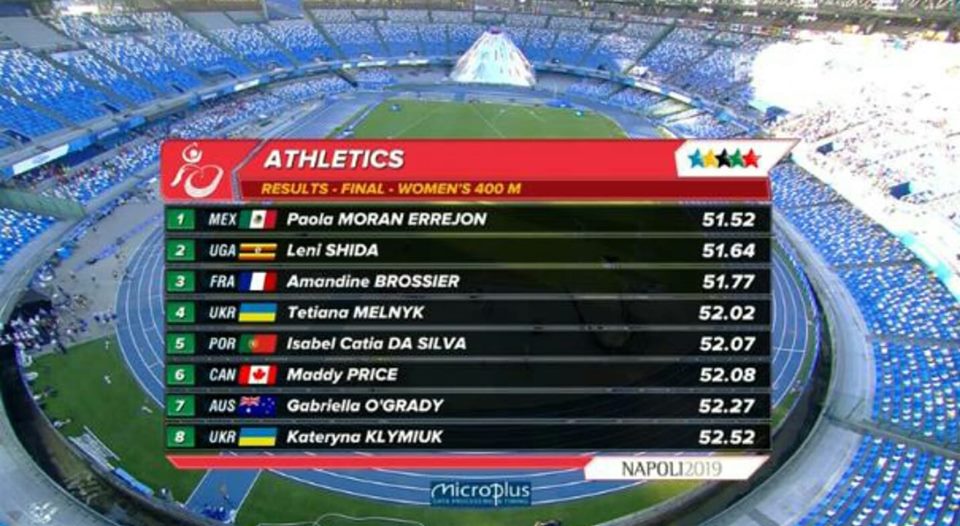 "Despite the windy conditions in Naples, Shida Leni came very close to her national record of 51:55 seconds" Kevin O'Connor told reporters before reminding us that it was the fifth time she was breaking the national record having broken it four times before.
"Shida ran a well-judged race despite this being her first global championship final. She showed little signs of nerves. Although she was the fastest of the semifinalists, three women in the field had faster personal best (PB) times than her, one of whom was the eventual winner,'' O'Connor said.
The 24 year old has previously represented Uganda at the Commonwealth Games in Glasgow 2014 and most recently in 2018 at the same Games in Gold Coast.
Another Ugandan athlete Dorcus Ajok, of Ndejje University also secured bronze in the Women's 800M race. It was really a good field day for Ugandan women at the games.
Participants from Uganda came from UCU, Ndejje, Bugema, Makerere and Kyambogo. The World University games commenced on the 3rd of July 2019 and will run till the final closing ceremony on 14th July, 2019.