Campus Bee Uganda successfully scooped the Best Blog Award in the 3rd edition of the prestigious Social Media Awards Uganda (SMA) that happened at Serena Hotel on Wednesday night.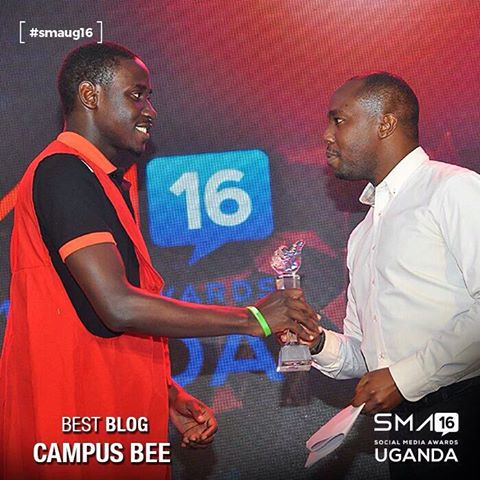 Nominated in the category of Best Blog, Campus Bee Uganda the first and leading campus web portal beat BigEyeUG, Fashion256, Diary of Mzungu and TheTribeUG to scoop the Best Blog Award in the Social Media Awards 2016.
Campus Bee continues to keep pride in breaking the barriers and bringing the edge-cutting angles and captivating stories from across all Universities in Uganda.
The young and vibrant team at Campus Bee Uganda would love to thank all the ardent readers who took a portion of their time to cast a vote- together we made this happen.
Below is the full list of winners in the different categories of the Awards.
Best Blog – Campus Bee
Best in Technology – MTN Uganda
Best moving consumer goods brand – Coca Cola
Best Use of Social Media by a state/ individual– National Water and Sewerage corporation
Best Media/News Outlet– NTV Uganda
Best Customer Care across social media– Airtel Uganda
Best Social Media for Small Business – The Pearl Guide Magagazine
Best Financial Brand on Social Media – Centenary Bank
Best integrated social media campaign – Coca Cola
Best Video/You tube campaign– Anne Kansiime
Best Innovation and Best Mobile App – MTN Uganda
Best Brand – MTN Uganda
Comments