Uganda Christian University (UCU) is set to have its 23rd graduation next month on 29th July.
After a week-long of confusion and cries from law students who weren't certain about their graduation, there's light at the end of the tunnel with their woes having a positive reply to feed at.
Dean of the Faculty of Law, Dr. Peter Mutesasira has through a memo addressed to all students confirmed that the law class of 2018 will be graduating with the rest of the students on 29th July.
However much there are still a number of issues with over 50 students likely to miss out on graduation due to the different issues with their marks and others with disciplinary cases, Dr. Mutesasira has assured that the faculty administration is working tirelessly to have these solved.
Law students make the biggest number of students in the university with over 300 set to graduate next month from both the Main Campus and Kampala Campus.
The faculty of law has been the first to release a provisional graduation list with other faculties waiting after the clearance deadline.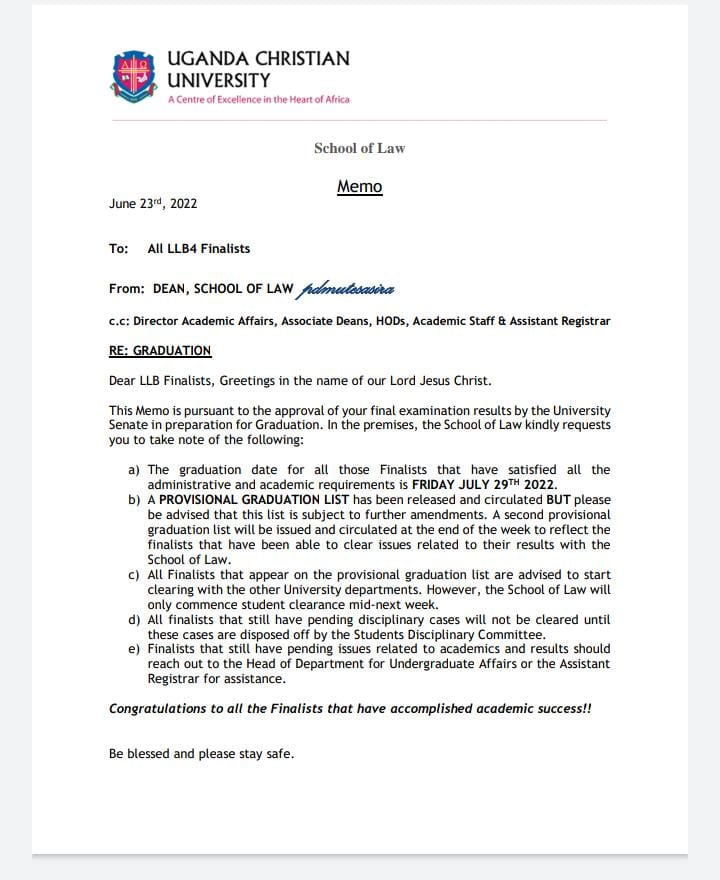 The communication only came a day to the clearance deadline date which was set by the university through a memo released by the Deputy Vice Chancellor In charge of Academics Dr. John Mulindwa Kitayimbwa.
However, according to the Dean's communication, graduation clearance within the Faculty of Law will go on even next week until the faculty is sure that every issue is settled.
Before the communication came in, students were drained in confusion as some had started on their clearance only to be bounced by the Accounts office even after they had endured to keep up with the long lines.
Comments