The planned Annual General meeting (AGM) and elections for students nationwide, under their umbrella of Uganda National Students' Association (UNSA), came to a halt just one day to the assembly. The students body (UNSA) had organized an assembly which was scheduled to take place between 9th to 12thJanuary 2019 at Mbarara High School.
UNSA is an umbrella association that brings together all students in post-primary institutions in Uganda and Ugandan students studying abroad. This association was instituted by the ACT of Parliament that mandated establishment of the Students councils in post primary institutions. UNSA has a well outlined leadership structure, in their constitution, and the patron is the President of Uganda. Except few offices like representatives to National council for Higher Education (NCHE), Leadership is changed every year during these general meetings.
"It's unfortunate for the entire students' community that AGM has been halted till further notice. I can imagine the inconvenience. But it's the other side of democracy", said Jothan Burobuto, the outgoing UNSA president. This year's assembly was postponed indefinitely after students from one university petitioned to high court on credibility of the current UNSA Speaker, Mr Ogwen Alfred, to conduct an election. The students allege that the speaker was not legible to stand as a speaker, in the first place. 
The aspiring candidates and delegates have expressed concerns on the timing and inconveniences that this will cause. Many delegates, especially those from high schools, are worried that they may not participate in the election. "The learned Judge would have considered the principle of legitimate expectation and cost implication. This is very inconveniencing, but I will continue to mobilize delegates for support", said Bayern Turinawe, an aspirant for Speaker UNSA.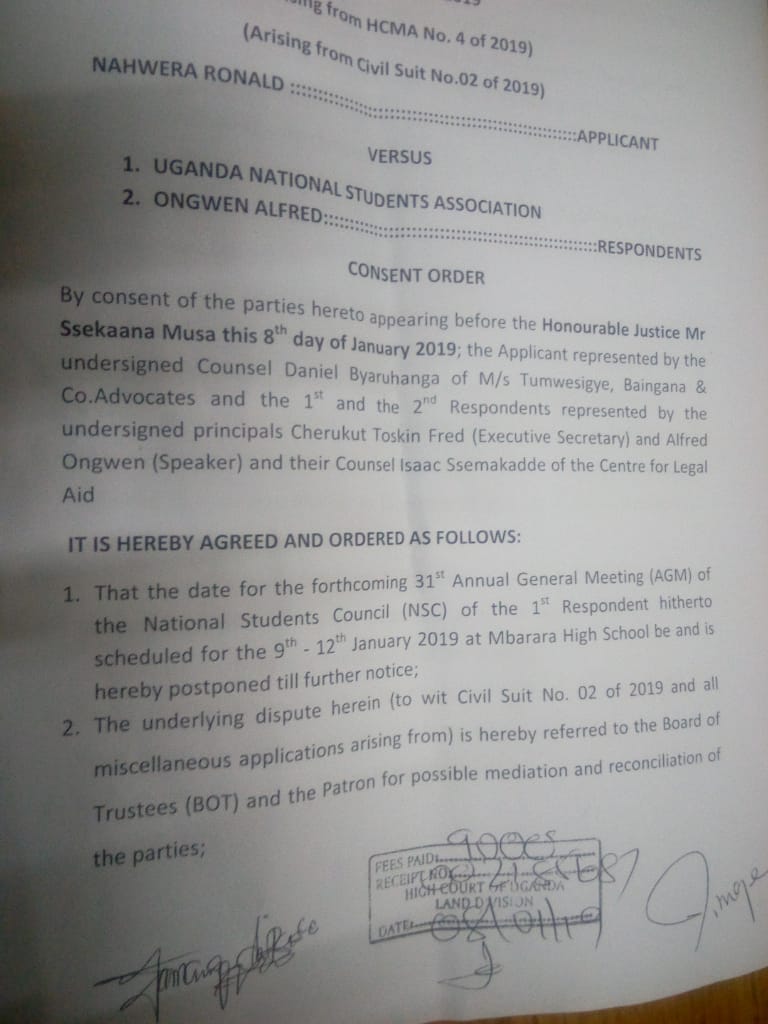 In a leaked photo of the court injunction, the high court halted the meeting and process of voting. The matter was referred to board of trustees and patron of the association for possible mediation and reconciliation. The date and venue, at which the general meeting will take place, remains a speculation at a time when many aspirants have spent so much in the campaigns. Political environment had become tense and propaganda was at its peak.
Some aspirants questioned the timing of the court injunction and they speculate that this was a planned move because this is not the first time that elections are postponed because of court ruling. Stay on Campus Bee for all late updates.