Monday 13th November 2017 saw Java House Bugolobi receive an unusual number of customers- at least that's what they thought until the would-be 'customers' approached the Branch manager asking for their respective departments and the Java House uniform.
Java House management had not advertised for any job openings. They would later learn that over 100 desperate unsuspecting graduate job seekers were duped in broad day light. These graduates were conned by fraudsters who posed as workers from Java House Human Resource department.
Bewildered, the graduates pulled out their 'appointment letters' that were in the Java House letterheads. The 'appointment letter' read;
"Following your application to work at our new branch in Kampala, we are pleased to offer you employment at our branch effective from November 13th 2017. You will undergo, a one week training to learn more about our standards of service delivery. Once the training is complete, you will be posted to your work immediately.''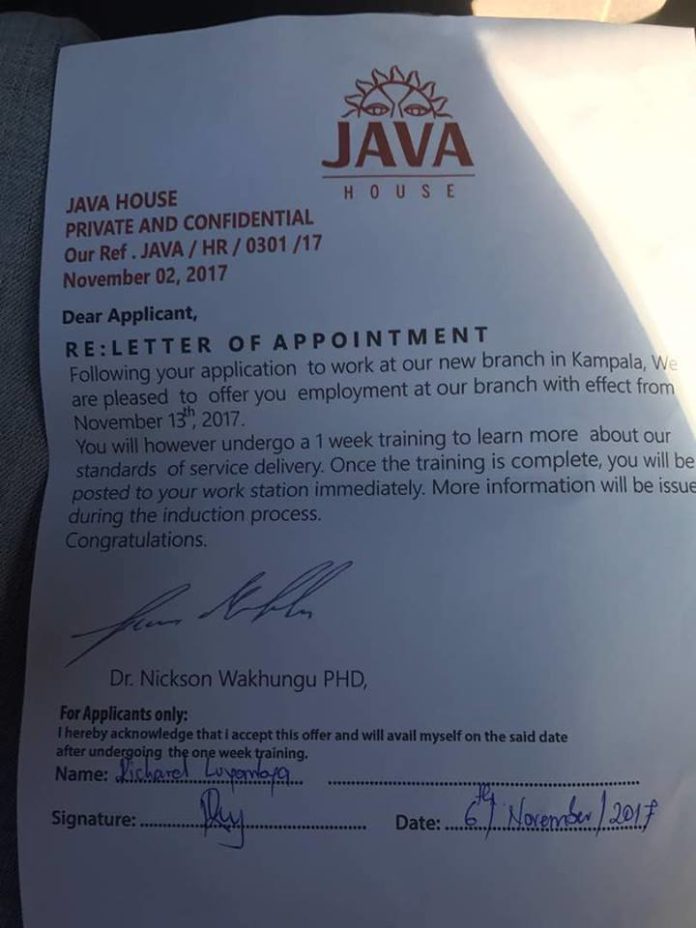 The pseudo appointment letter was signed by Nickson Wakhungu.
The fraudsters, according to the job seekers, asked each applicant shs900,000 for an assured slot- meaning the conmen siphoned over shs90m from these graduates.