Ronald Ainebyona is a student of law at Mukono Based Uganda Christian University (UCU) and a staunch political activist. He was formerly a student at Makerere University where he led the university chapter of the Forum for Democratic Change (FDC) Party and contested for guild president.
He was unceremoniously expelled from the university however in the aftermath of the guild election after he went on NTV and accused the Dean of Students Mr Cyriaco Kabagambe for taking a bribe of 5M to nominate him and later failing to refund it when he was not nominated successfully.
Ainebyona was a groom over the weekend in Mubende District as he tied the knot with a long time lover in an event organised by his family, a staunch NRM leaning base. He invited among others Moses Byamugisha, the youthful opposition lad that recently announced a bid for president in 2021 and MP Butebi Zaake of Mityana Municipality, a staunch People Power mobilizer who arrived in their trademark red beret.
When Zaake arrived however, the groom's family and villagers rallied and threatened to beat him up if he dared to enter the place of the ceremony. The family argued that being NRM supporters, they could not allow a People Power guy that is giving President Museveni constant headache to prevail at their party.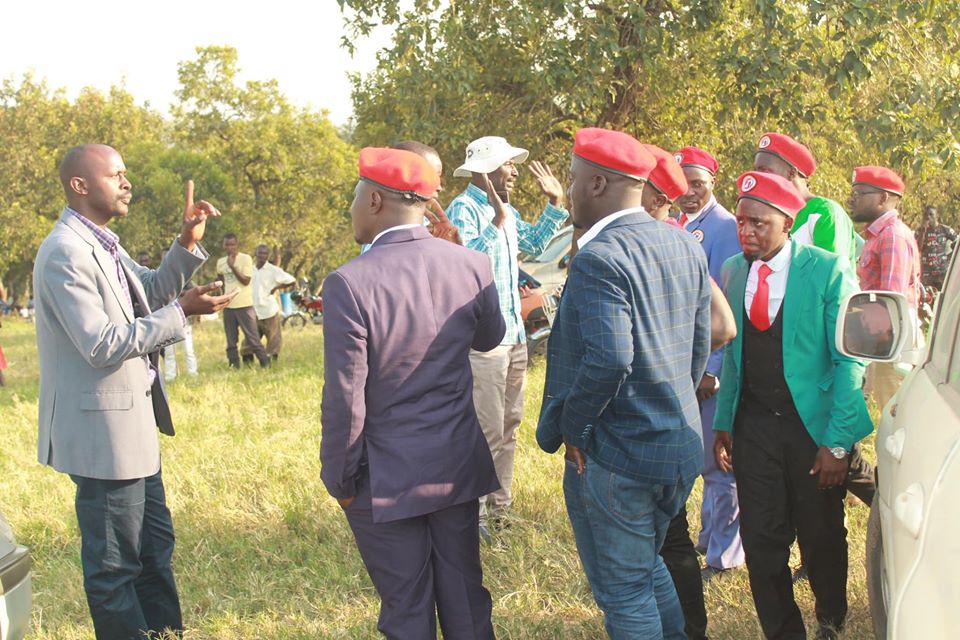 "Ainebyona had been given a condition. The parents told him to take his wedding to Kampala if he wanted to invite opposition friends because they were not ready to admit non-NRM people in their homestead. It was Ainebyona's choice to let them come." A source at the party told Campus Bee.
The first thing the family did when Zaake arrived was to meet him half way and order him to leave. We are told the matter was so serious and some family members were swearing they would kill him if he dared continue.
"They had pistols and sticks. One family member wrestled Zaake down and rained punches on him. He accused him of abusing the President and faulted their son for finding friendship in disrespectful individuals like Zaake Francis. If the groom had not dashed from his tent to come to his rescue, Zaake would be nursing injuries from the numerous blows he received." Our source further intimated.
Zaake admits the circumstances and blames the outcome on cultural and tribal differences he says the NRM has massaged. Zaake shared his version of the story and we have provided it here for you.
"On invitation by a colleague, Mr. Ainebyona Ronald, we drove swiftly through clouds of dust and entered Buwekula County to attend a wedding reception organized at their home which is strongly NRM leaning.
When we arrived at the venue some of the guests pulled out their pistols and threatened to shoot us dead if we entered the venue. Ainebyona, who hails from a staunch NRM family, is a law student and MP aspirant for Buwekula constituency in Mubende District, and had invited us earlier to attend the function.
Without any provocation, some guests became charged as soon as we approached. They confronted us and started forcefully shoving us away as they pointed pistols at us asserting that they did not want anything to do with People Power at 'their' function. It is at this point that Ainebyona sprung up from the groom's seat and dashed towards the melee to save us. Although he informed them that he had invited us, the guests furiously insisted on pushing us away until he threatened to abandon the event and follow us.
The guests eventually gave up and let us in but with stern instructions that we should not give any speech. The function resumed but even then, speaker after speaker who took to the microphone threw insults at us and Ainebyona saying that they would disown him for associating with People Power.
Contrary to the usual norm, Ainebyona's relatives withheld all cattle they had brought for him, and went ahead to threaten him with beatings if he dare stand for MP. Other speakers said they are ready to kill and shed blood if People Power wins the 2021 presidential elections. To show how serious they were, they said they would shoot me right at the function if anybody gave me a microphone to speak.
During his speech, the groom Ainebyona thanked his relatives for making the event possible, and reminded them that the law they sent him to study teaches him to tolerate others since we are all one people. But no sooner had he started formally introducing me to the guests, than one of them rushed and grabbed the microphone away from him. The function ended abruptly without the cake being cut.
I congratulate Ainebyona upon his marriage, and greatly appreciate him for showing extraordinary courage as he saved us from the irate guests. It is unfortunate that what was supposed to be a peaceful celebration turned out the way it did because of a few unprovoked guests who could not tolerate our political opinion.
Comrades, it is important to remember that our struggle is beyond tribe, religion, class or other social constructs. What unites us are the bad conditions in which we live, not the factors that distinguish us from each other."