The leading online shopping outlet, Jumia has extended its services to the people in the South Western Region of Uganda. This has been done by officially opening up a new branch in the middle of Mbarara City to extend Shopping services nearer to customers in the region.
The ceremony was graced by Mbarara City Mayor His Lordship Robert Kakyebezi and other officials from both Mbarara City council and the Jumia team.
In his speech, Kakyebezi thanked Jumia for choosing Mbarara City as one of its target market hotspots.
"As Mbarara City, we are privileged to have Jumia in our city. I have been seeing Jumia on media but I didn't know what it was about. Thank God that you're here today. I have liked you the fact that you're providing employment opportunities to the people of Mbarara especially the Youth. I advise the youth at campus to embrace opportunities in new business entities and they should appreciate the little they receive, because the starting is not always easy," he said.
"As Jumia team you always need to brand and identify yourselves, this will limit the chances of conmen who will use your name to cheat others. I have officially opened up this branch, your activities can commence," he advised.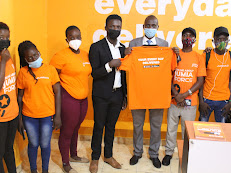 In an interview with Campus Bee, the Jumia Regional Manager Mr. Godwin Mbabazi said that Mbarara City is one the fast-growing business hubs around the country and its residents have been looking for Jumia services for a period of time.
"We are happy to inform the people of Mbarara and the entire South Western region that we're finally here in Mbarara City. Mbarara City has a lot of untapped opportunities and Jumia is here to utilize them by serving you satisfactorily. Youths in Mbarara City are going to earn some money by joining the JUMIA Force (J-Force). This will reduce unemployment rates in the city. Goods at Jumia are sold and delivered to one's destination at a fair amount," He explained.
He concluded by encouraging people in Mbarara and its neighbors to make use of the Jumia App and enjoy several discounted offers.
In attendance, there were students from the neighboring universities such as Bishop Stuart University, MUST and MUBS who serve in Jumia's J-Force.
Comments