Yesterday was a big day for Allan Kajik, the husband to State Minister for Privatisation and Investment Evelyn Anite. Kajik was among the 151 Masters Degree graduands during Kyambogo University's 16th Graduation Ceremony that was officiated by President Museveni as the guest of honour.
Kajik, the administration manager of the Uganda Electricity Generation Company Limited (UEGCL) graduated alongside six others with a Masters of Organisation and Public Sector Management.
Just like any proud wife, Anite couldn't hide the excitement following her husband's education milestone. Without any hesitation, Anite jumped out of her seat in the executive tent occupied by President Museveni shortly after her hubby's name "Allan Kajik" was read.
The minister was later seen rushing to hug her husband in the middle of cheers from graduands and other officials that graced the ceremony.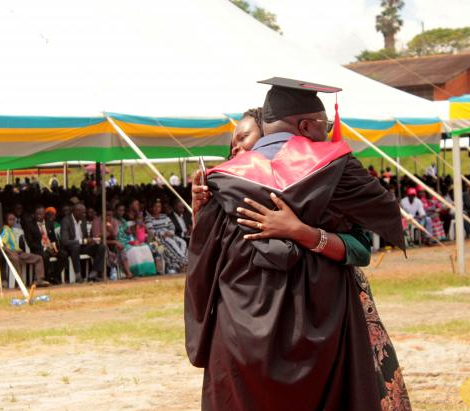 "I congratulate my darling husband upon adding papers in the family. Of course by the time we were getting married we had both attained out first degrees. We took a decision together to go back to school," Anite confessed.
Kajik's graduation has happened in the same year Anite attained her second degree from Tufts University. In this same year, Anite has furthered her studies at Harvard University.
"It's been an excellent year for us as a family because I was able to graduate from Tufts University and went ahead and did another course in Harvard so today, I am more excited that my husband has made it and he has made us proud," Anite added.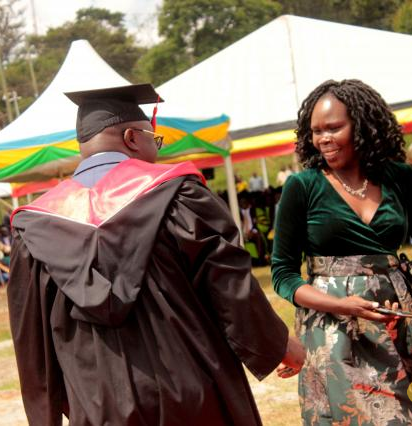 The excited Kajik revealed that he will use his new papers/skills to transform the energy sector especially in the area of administration where he is currently employed.
"I work in a very challenging sector, the energy sector and we are responsible for construction of dams in this country and generating energy for this country, certainly it is worth noting that I must transform the sector especially in the area of administration where I am, we must improve services of our people." Kajik said.
While talking on how he managed to be both a student, husband and employee, Kajik confessed that it was not easy but vowed to be a better husband now that he is done with books.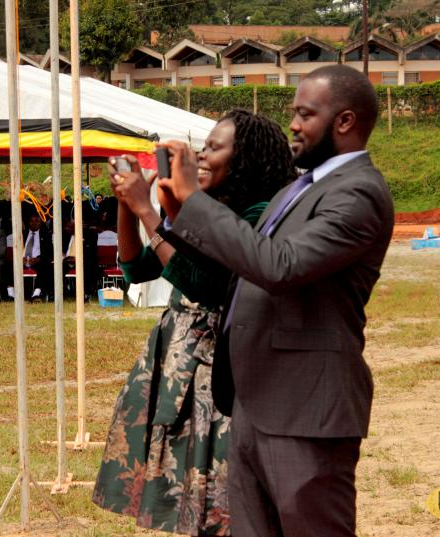 "It is so nice to be a husband to a minister (laughs) it is exciting but it also comes with its own challenges. We have had a number of busy schedules, sometimes it requires me to be with her. But finally I thank God that I managed to maneuver through and graduate. I hope I am going to make a better husband," Kajik added.
The ceremony, which started yesterday November 11th will run until Friday 13th where a total of 8,892 students are expected to graduate with certificates, diplomas, bachelors, masters and PhDs from the Banda-based campus.