The Vice Chancellor of Makerere University Prof John Ddumba-Ssentamu has suspended a lecturer from the school of statistics and planning for failing to produce results of students awaiting graduation in February.
Campus Bee on January 26, 2017 reported that about 200 students from the said school were to miss results because their lecturer Dr James Wokadala was withholding their examination results for the course unit Fundamentals of Marketing, Code BBS 3208 .
Following the endless cries from the affected students, it was today found out, in the appointments board meeting, that Dr Wokadala had hired a one David Opiro to mark the scripts, but the latter ended up withholding the results because he wasn't paid.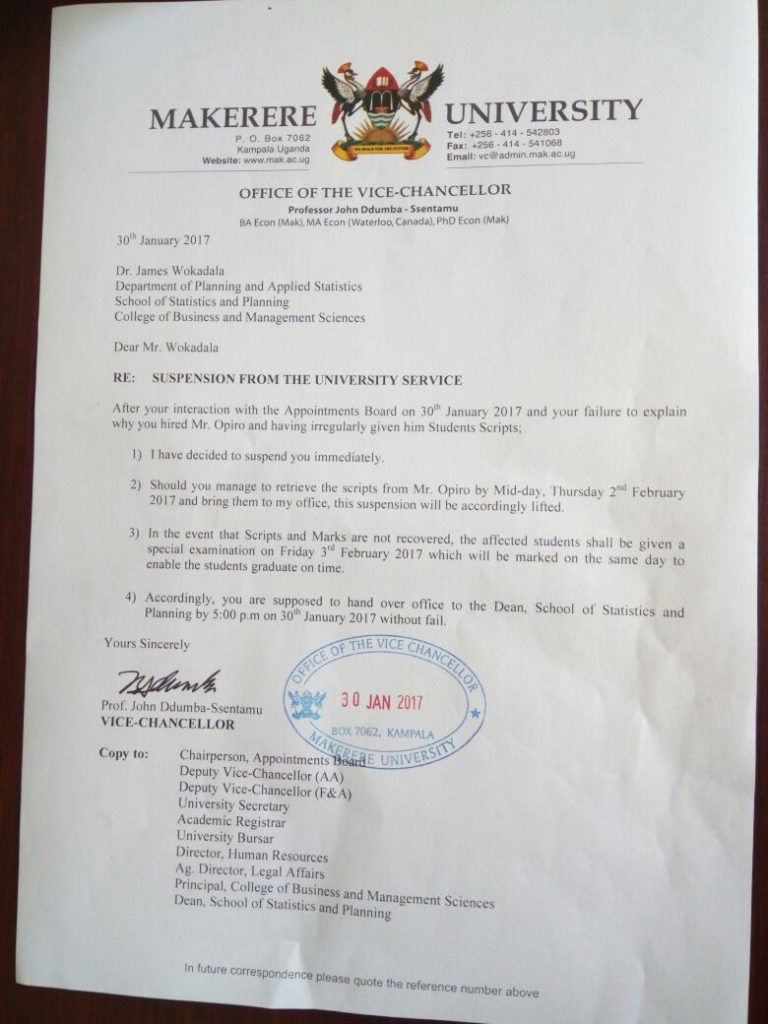 Consequently, Prof Ddumba has this evening suspended Wokadala.
"After your interaction with the appointments board on 30th January, 2017, and your failure to explain why you hired Mr Opiro and having irregularly given him students scripts, I have decided to suspend you immediately," reads Wokadala's suspension letter by Ddumba.
Prospect graduands to sit emergency exam
But Prof Ddumba gave Wokadala an option that if he is able to produce the said results by Thursday this week, the suspension will be lifted.
However, where the above condition is not met, the students who offered the said course unit, Ddumba said, will have to sit an emergency exam.
"In the event that scripts and marks are not recovered, the affected students shall be given a special exam on Friday 3 February 2017, which will be marked on the same d to enable students graduate on time," Prof Ddstudentsded.
For now, Dr Wokadala has been ordered to handover university property to the school's dean.