Word reaching us confirms that former NTV star Sheila Gashumba has been dumped by her loaded lover God's Plan after, apparently catching the Lil Stunner cheating. The money spender reportedly discovered erotic chats between Sheila and musicians; Fik Fameika and Grenade before calling it quits.
The chats later pushed God's Plan to delete all photos of him with Sheila from his Instagram album and went ahead to unfollow her on the same social media platform.
Moments later, Sheila as well unfollowed God's Plan without any hesitation, a move that confirms that she was ready to forget about all the romance and gifts received from the loaded dude.
As we continue to investigate the nasty break up, our sources spotted Sheila buying drinks for herself and her girls at Club Illusion on Saturday, despite God's Plan's presence at the same pompous club.
More reports indicate that the NTV Style Project co-host has already been kicked out of God's Plan's expensive apartment and she is currently staying at her mum's.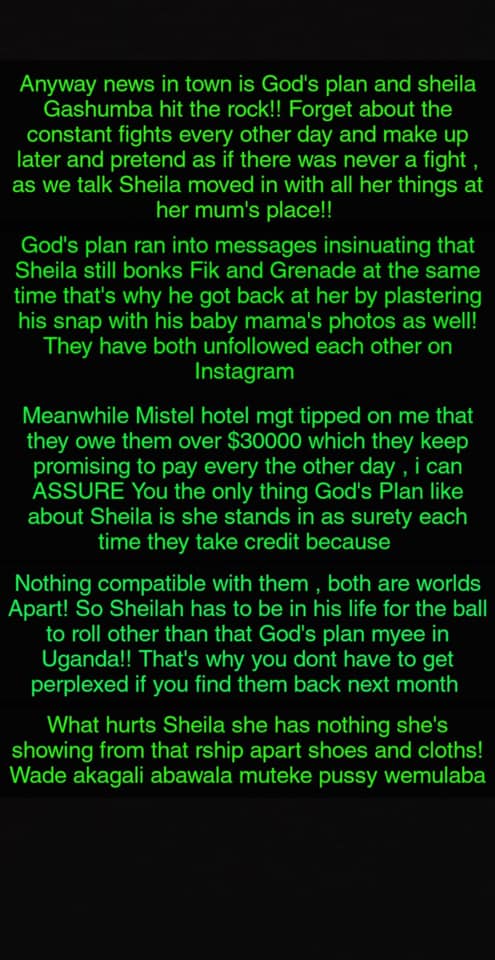 Rumor has it that Sheila decided to cheat because God's Plan was out of cash and the two had started buying small bottles as compared to the previous expensive liquor they used to sip.
We shall keep the sauce popping!