This is going to come in as a shocker to most people because you may find in your father's number plate or a married brother with a pair of twins still going out with campus girls every night. At campus, it is a privilege for some girls to have blessers and literally be home wreckers and they literally enjoy every single bit of not knowing the pain behind what they are doing.
Well, today we have a list of the top cars that are always picking up girls at night from their hostels to either go out to the bar or get a room somewhere in a fancy hotel. If your girlfriend has told you that that was her brother, well this is your time to find out the actual truth.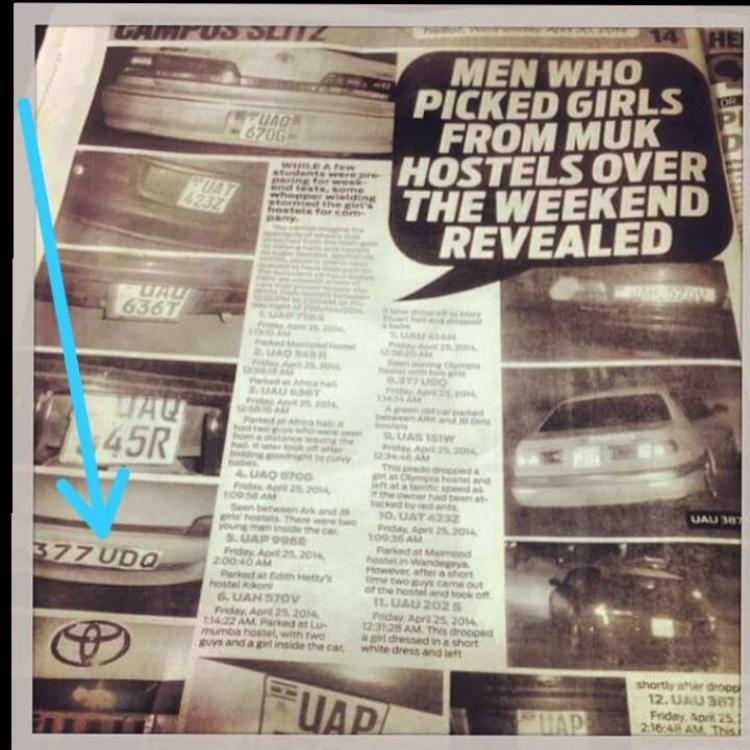 From UAU 636T, UAT 423Z, UAQ 670G, UAQ 945R to 337 UDQ which tops as one of the oldest models of cars. This proof to show you that girls didn't come to play and be careful with girls whose hearts you break because they may end up with your fathers. We have proof from piddy who is now engaged with the sons ex.
If on that list, you see a familiar number plate that belongs to any of your relatives or friends sorry to break your heart like this. My advice to university boys dating girls at hostel is don't trust them unless you actually do what the blesser does for her. The top hostels around Muk that get most pick ups at night are Olympia and Nana hostel then at Mubs it's Akamwesi and Ideal hostels.