A recent Makerere University graduate (identity concealed) who had applied for a post-grad study programme at University of Bristol in England has been rejected due to an 'expired' course they pursued at the University (Mak), Campus Bee has learned.
The course in question has been identified as bachelor of biomedical laboratory technology, which according to an email excerpt obtained by this website, expired on 26 March, 2015 basing on the accreditation list by National Council for Higher Education (NCHE) in Uganda.
"The entry for the Bachelor of Biomedical Laboratory technology for Makerere University indicates that this programme was accredited 26/3/2010 – 26/3/2015 and expired in 2015," the rejection emails reads.
"As you graduated in 2018 after the programme accreditation expired, we are therefore unable to accept your qualification."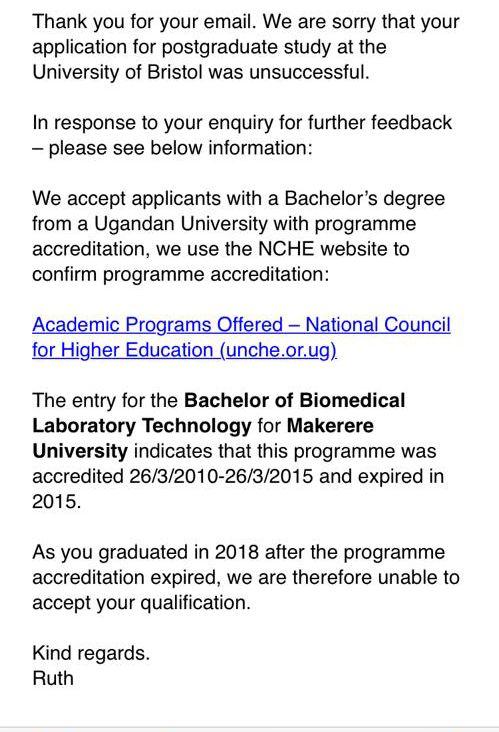 Now, this raises concern over other graduates from the same course at Makerere who graduated after 2015, such as this graduate.
When contacted, the Vice Chancellor for Academic Affairs – Prof Umar Kakumba said that the Academic registrar's office has been working with the NCHE and the programs anomalies had been addressed.
However, Campus Bee can confirm that the accreditation of the course in question, at Makerere expired in 2016 and is marked as "under review" by NCHE as of 17th May, 2023 10:00 AM on their website.
NCHE is mandated by the government to accredit and issue licenses to all institutions of higher learning across the country, and their respective academic programmes.
Comments