Bee Reporter
Rev. Sr. Mary Margret Aceng, the Dean of Students, Gulu University has passed on. She succumbed to  blood clot in  the head in Arua referral hospital.
Rev Aceng has been the Warden in charge of Students' accommodation, in charge of psychological wellbeing and counselling services of all students and staff and has also bee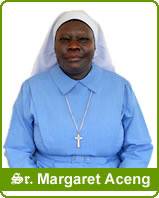 n overseeing the spiritual needs of Christian students and the Mullah for the Muslim students of the University.
Students have taken to their Facebook timelines to convey condolensces to the beloved Rev. Aceng. We sample a few messages below;
Andrew Ogwetta Otto, Guild President, Gulu  University

Hello all.
I join all of you in the most painful loss yo the students that God has called our dean. She will never be forgotten.
Am in Korea now but i fly back this Sunday. My office through the prime minister will coordinate the burial. Let us contribute through our faculties and raise to support the family.
I LOVE YOU ALL AND WITH YOU IN PRAYERS
RIP SISTER MARGRET

U have been a mother to us in all situations. Its a pitty u hv not seen some of the fruits ov yo hard work.
WE SHALL ALWAYS MISS U EN UA IRREPLACEBLE.
RIP SISTER DEAN MARGRET

Baguma Thomas Adyeri Omukooto
MAY GOD HAVE MERCY ON GULU UNIVERSITY……TOUGH 2014 FOR G.Unit…..DEAR LORD WE HUMBLY REQUEST FOR UR FORGIVENESS AND COURAGE……..R.I.P..Sister Dean
Rev Aceng is the seventh staff member to die in this university, in a period of just one year.