Much as Makerere University may seem to be the only institution taking the 15% tuition increment policy on a serious note, Gulu University students have voiced out their pertinent intentions to join in solidarity this Friday in a peaceful demonstration.
In a write up appearing on all university notice boards water marked "#FeesMustFall" and written by a concerned student from the faculty of agriculture, the students have declared their intention to hold a peaceful demonstration from Gulu University premises to the offices of the Resident District Commissioner (RDC), LC V Chairman, District Education Officer (DEO), and the Uganda Human Rights Commission.
The letter addressed to the District Police Commander, Gulu, aims to notify the university, police and general public of the students' intentions to hold a peaceful retaliation in demonstration against the 15% tuition police to be implemented saying its unfair and inconsiderate of the government through the concerned ministries and offices seeking to enforce it's implementation.
The students maintain that a demonstration is everyone's right and that the security forces were in wrong when they unleashed terror on striking Makerere University students and vandalized their property in the process.
The demonstration is set to start at 9:45 am from the main university proceeding to Gulu town. The letter requests the police to offer protection for a maximum of 70 students as mandated by the law of the land.
The letter was copied to the vice chancellor of Gulu University, RDC Gulu, Head of Security, Gulu University, Northern Uganda Media Club (NUMEC) and dated 30th October 2019.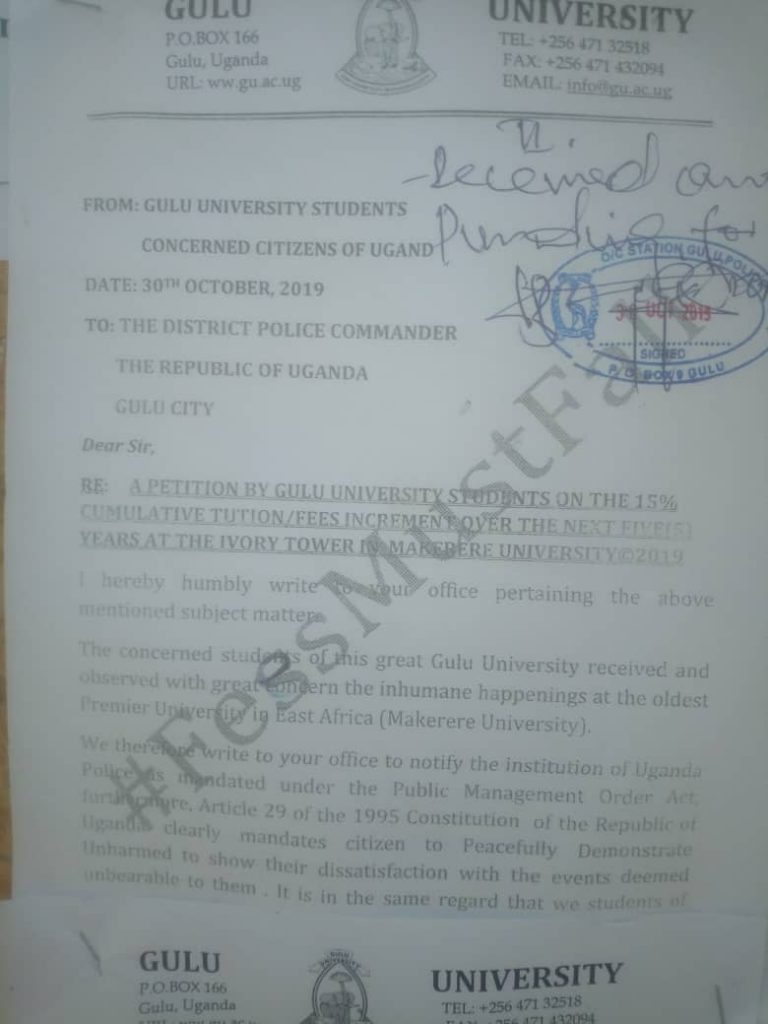 Comments