The academic registrar of Gulu University, Dr. Jerry Bagaya had informed all graduates of the 17th graduation to pick their transcripts.
The transcripts ready for picking are for graduates from only seven programmes.
According to him, the university had just adopted the use of Academic Management Information System (ACMIS) for the management of results and processing of transcripts which has delayed the release of all transcripts at once.
"This being the first time to process transcripts on the system, there was need to improve on the security features on the transcripts and more importantly to validate all the results uploaded on the system before printing the transcripts. As a result, the printing of transcripts could not be done as earlier anticipated," Dr. Bagaya said in an internal memo dated September 12, 2022.
Graduates from the following programmes are called upon to pick their transcripts;
Bachelor of Laws
Bachelor of Medicine and Surgery
Bachelor of Development Studies
Bachelor of Quantitative Economics
Bachelor of Applied Sciences-Chemistry
Bachelor of Information and Communication Technology
Bachelor of Science-Economics
The Academic Registrar said that he will provide updates on transcripts that are ready for picking, after every two weeks.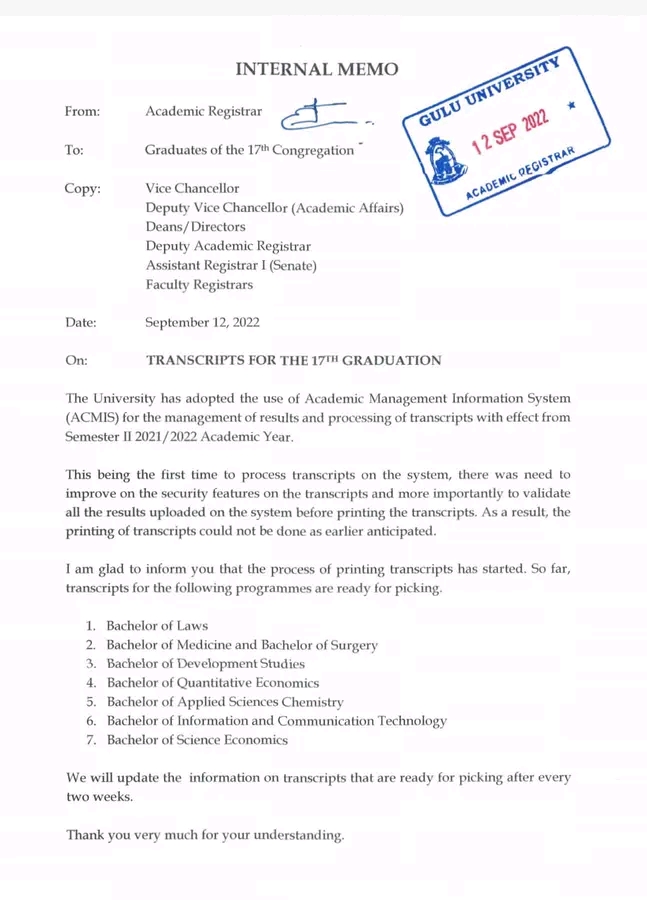 Comments