In a significant academic achievement that showcases the dedication and pursuit of knowledge by Ugandan politician Hon. Mukasa Mbidde, he has been awarded a Doctorate Degree from Zoe Life Theological College in the United States. This milestone underscores his commitment to both his political career and the relentless pursuit of academic excellence.
Hon. Mukasa Mbidde, a prominent figure in Ugandan politics, has held various key roles in both national and international arenas. He is best known for his tenure as the Vice President of the Pan-African Parliament and his representation of the East African Legislative Assembly (EALA). His political journey has been marked by a commitment to regional integration, diplomacy, and the betterment of society.
Despite his demanding political responsibilities, Hon. Mukasa Mbidde embarked on an academic journey that has now culminated in the attainment of a Doctorate Degree. His dedication to education exemplifies the value he places on intellectual growth and lifelong learning.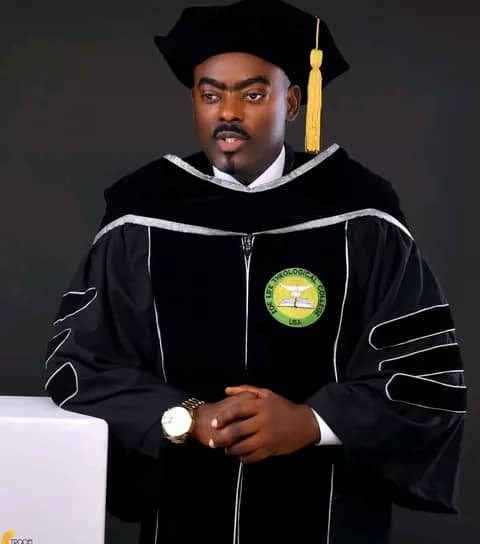 Zoe Life Theological College, situated in the United States, is renowned for its commitment to delivering high-quality education and providing an environment conducive to academic excellence. The institution's programs are designed to cater to the needs of working professionals, making it possible for individuals like Hon. Mukasa Mbidde to pursue advanced degrees while fulfilling their professional commitments.
The significance of lifelong learning cannot be overstated, and Hon. Mukasa Mbidde's achievement serves as a testament to its importance. In an ever-evolving world, individuals who continue to seek knowledge and improve their skills contribute not only to their personal development but also to the progress of society. His example is an inspiration to others, demonstrating that academic goals can be pursued at any stage of life, regardless of one's professional responsibilities.
Hon. Mbidde's graduation was revealed by his wife Akantonnah Phionah, who took to her socials to congratulate him.
In her post, Phionah lauded her husband's perseverance and hard work.
"Dear husband, Congratulations on your tremendous success. Your perseverance and hard work have finally paid off, you now hold a doctorate degree in your hands. I adore you so much. I don't need to read magazines to be motivated… you're my inspiration. Happy graduation and congrats love."
Balancing a thriving political career with academic pursuits is a commendable feat that requires exceptional time management, unwavering dedication, and a strong support network. Hon. Mukasa Mbidde's achievement exemplifies that with determination and access to the right resources, individuals can excel in both their professional and academic endeavors.
Hon. Mukasa Mbidde's journey from the world of politics to the realm of academia is a compelling story of personal growth and dedication. It highlights the boundless opportunities that education offers and serves as a source of motivation for individuals from diverse backgrounds to embark on their own educational journeys while making valuable contributions to their communities.
In recognition of his remarkable achievement, Hon. Mukasa Mbidde's alma mater, Zoe Life Theological College, held a special convocation ceremony to confer upon him his Doctorate Degree, symbolizing the significant academic milestone in his illustrious career.
Comments