Makerere university National Unity Platform's flag bearer Shamim Nambassa launched her manifesto on 5th November ahead of the forthcoming 87th guild elections.
Shamim who outsmarted Nelson Ssewanyana in the NUP primaries, only for the latter to consent to defeat and back her up, thrilled her followers with her bold slogan 'vaccinate the junta…' as she unveiled her manifesto at Makerere university's guild canteen.
NUP's flag bearer who was dismayed by the worrying facilities and services at Makerere promised to have the tables turned when she is elected as Makerere's next guild president.
According to her, halls of resistance are at shortage of water more so in the cock crowing hours, health services are not healthy et al.
Shamim Nambassa, whose followers cheered on in her 'vaccinate the junta' slogan, went ahead to sound a hell-coming warning to the Vice Chancellor Professor Barnabas Nawangwe as she vowed to kick him out of office the moment she becomes guild president.
Shamim further promised to have the controversial 15% tuition policy phased out completely. The policy was halted for a two years period due to the outbreak of covid-19 that ravaged the economy.
Nambassa Shamim who has been serving as an academic minister in the 86th guild house is now seeking for her boss's -Ssempiga Ivan's shoes to become Makerere University's next guild president.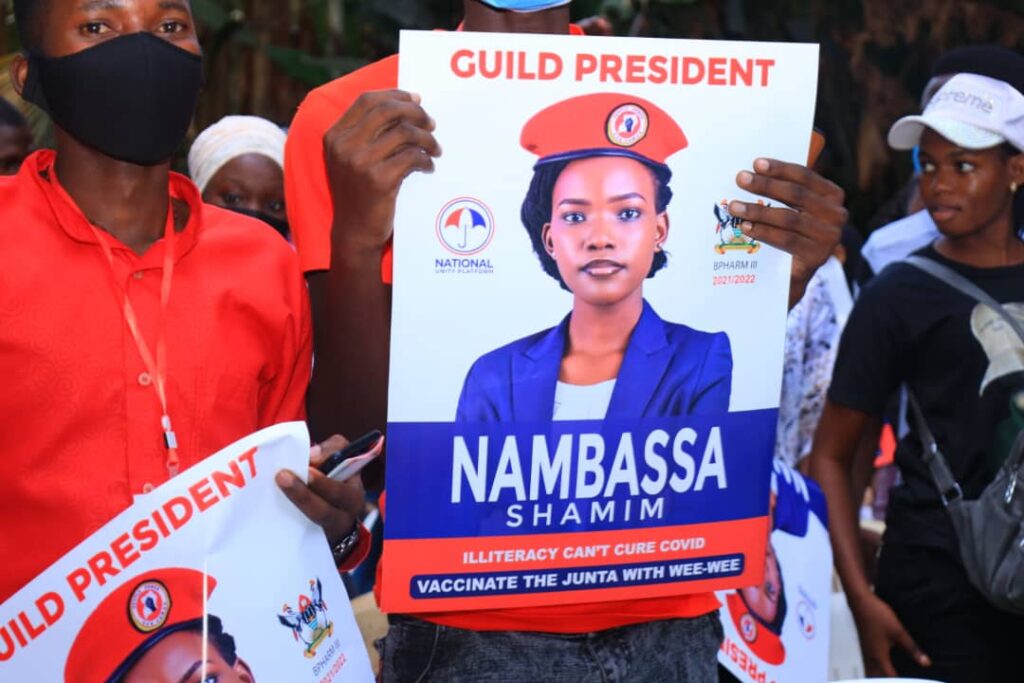 MUK will hold its 87th guild and GRC elections on 12th November and the election will be held both physically and virtually (E-voting) with only first year and finalist students voting physically.
Comments