Campus Bee caught up with an activist from the Northern Uganda based Gulu University. This revered gentleman and former Campus Bee writer is running for the position of Medical Interns President 2019/20. Our reporter interviewed him.
What's your name?
I am called Ayebazibwe Ambrose, but commonly known as Activist, Chief In Command, General, CEO Fantastics, and Ocen among others.
Why all these names? Did you join the Army while in Gulu?
(Haha) Not really. These were names, titles conferred upon me by my colleagues while at university. But  titles like Activist, General, Chief in Command, were given to me after peaceful demonstrations that I led while in pursuit of student friendly policies, welfare, and better academic environment.
What's the biggest challenge in your work as activist?
Being an activist is tough.  Threats from university administration, you risk losing your academic  career or swallowing 'political retakes' and some people fear you because they think you are tough to deal with. It also requires some funds and at times you may need to sacrifice your little pocket money on issues such as mobilisation. But biggest of all is mobilisation of students, to join in.
I have heard you are joining national activism. Is it true?
After University, I knew that I will fight against the draconian internship policies. It was clear. Actually, I joined national activism many years ago. Together with committed colleagues, we mobilised students for the Nation Wide Interns strike in 2017/18 against bonding of medical interns and payment for all.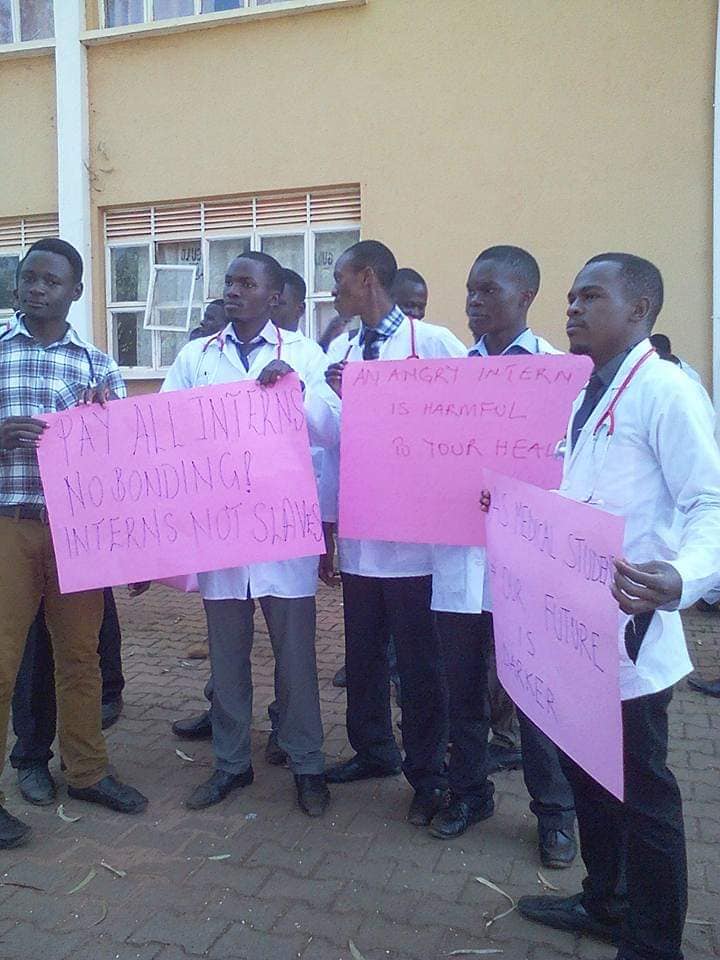 Who inspired you?
Dr Ekwaro A. Obuku inspired me during the famous doctors strike. I learned that we subscribe to a Nobel profession but we shouldn't sit back in silent mourning while being oppressed!
Are you standing for Interns' President?
Yes! On Sunday, 18th August 2019,  the Electoral Commission of Federation of Uganda Medical Interns (FUMI) received my application for that post. And I went through vetting on Tuesday. So it's very true. I am very determined and ready to battle for better internship.
What is FUMI?
It's an umbrella association that brings together all medical interns in Uganda. Interns include pharmacists, doctors, dentists and Nurses. FUMI is a platform through which we advocate for the welfare and interests of interns, better policies, and better working environment.
What do you plan to do as Interns' President?
Basically, to advocate assertively for Interns' demands. We have many people who just want to enslave, malice, torment this group. Every new year, someone is planning something bad against interns. So briefly, I have come to advocate for better and timely remuneration, welfare, repeal draconian policies and advocate for fairness &  justice for all medical interns.
What's your message to all medical interns out there?
Soldier on. Let's join hands and fight together for what we deserve. Don't get tired of doing the right thing. Government works on blackmail, intimidation, divide and rule but let's  remain firm and united. They have started going to medical students and playing nice because i have seen the state Minister for Health attending functions of medical students. We have General Assembly this Saturday 24th August 2019 at Galloway Hall-Makerere. Come and vote for your  leaders. Please vote for me as FUMI President 2019/20, I will never disappoint you.
Well, God speed Mr Ambrose!
Comments