In an interview, Ashaba Faridah one of the few ladies that have defied odds of women being rising stars in the aviation industry reveals what keeps her going. It is amazing how she has contributed to uplifting young girls into this field. Sit down and marvel at her inspiring story;
Who is Ashaba Faridah? What is your Background like?
I would like to think of myself as a focused and determined lady who dreams beyond what other people see. I come from a very humble background but that has never stopped me, in fact, I am proud of my humble background because God is using that to show that everything is absolutely possible with him.
 What do you think has made you become the person you are today?
Not comparing myself to others has made me the person I am today, I have always believed everyone in life has a different path laid to out for them by God. And through everything I did, I decided to trust God and believe I was on the right path no matter what.
What sparked the interest in becoming a pilot? Did you always want to be a pilot?
Honestly, I didn't even know there was pilot training in Uganda. I always wanted to be either an interior and landscape designer or a chef. (laughs) however, when I went for a diploma in flight operations and management at soroti flying school, I was mainly fascinated by how the ladies flew those planes. I immediately picked an interest and here we are haha.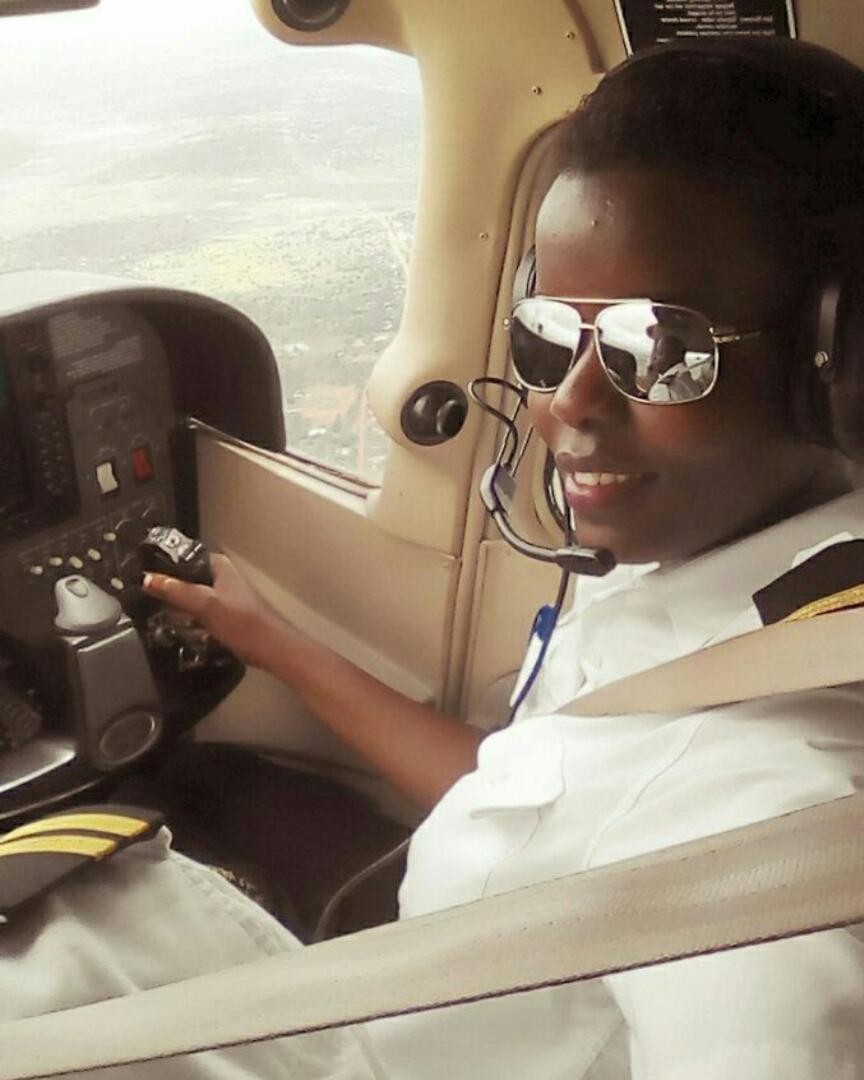 What is the gender demographics at the Flying School in Soroti? Do you feel that you are not looked at with the same potential as male Students?
The school itself doesn't look at gender. Only your capabilities or skills as a pilot. However, amongst ourselves, I am sure some men feel we are let off easy as women ( which isn't the case), so you have to work twice as hard to prove that you deserve to be in the industry and not cause pity is taken upon you as a woman.
Aviation is a male-dominated industry, yet more and more women are choosing it as their career. What are some of the misconceptions about women in aviation? Have you ever got into a weird situation because of Gender?
I think the biggest misconception is women have been seen as a weaker sex from way back and the aviation industry isn't an exception. However, in the aviation industry, it is worse since there are not many women pilots, not only in Uganda but worldwide. So women are seen as soft and not smart enough to operate some machines ( which is totally wrong). I have heard of incidents where some men won't board planes flown by women( luckily not here in Uganda). I haven't gotten in any weird situation yet, but just because I haven't doesn't mean others don't.
What's the Cost of becoming a pilot in Uganda Today? What advice do you give to students out there who have the dream of becoming pilots but can't afford Tuition?
The cost will range from 19,000 – 20,000USD (entire course), Some schools you pay per hour, around 130USD. There are other options like government scholarships and  I would advise you make google your friend for there are many aviation scholarships available for developing countries.
What is your greatest challenge in aviation?
I have many challenges but my main one is things not going the way I expect them to go especially timelines.
How was your first flight like? What's your most memorable flight?
My first flight wasn't so good. The instructor was showing me some manoeuvres and I was disoriented. Every flight I have in calm weather conditions is a memorable flight for me.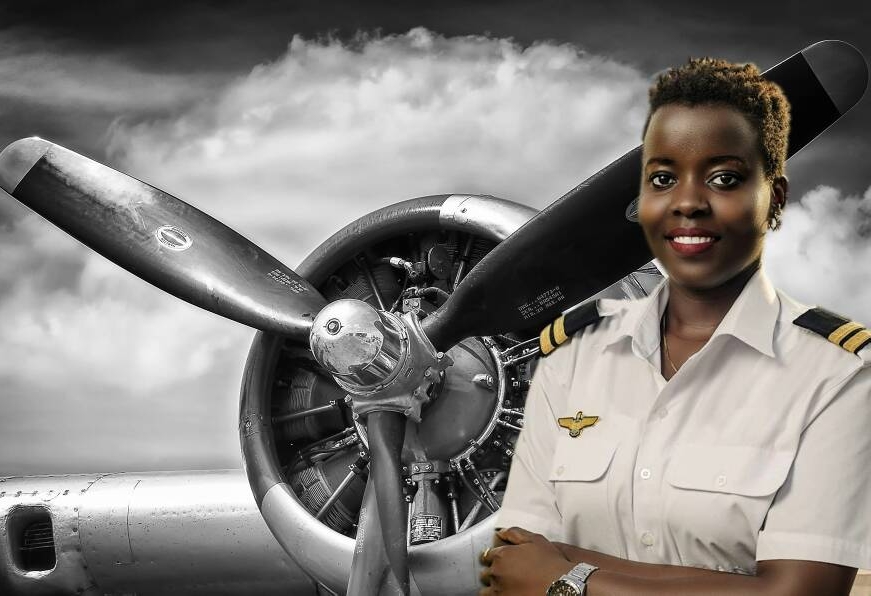 What's that one thing you always pack for every flight?
As a pilot, there are things that are a must-have on every flight, like a pilot handbook, checklist etc. However, on a personal note, I always have my phone, license and identification just in case I need them.
As a pilot, what question are you asked the most?
Everyone asks me when I can give them a lift, honest to God I get asked that every time someone finds out I am a pilot and I can't even explain that it doesn't work like that.
Where do you see yourself in the next 5years?
Probably flying somewhere in Europe, but then again I want to own a private jet at some point. So I will be flown around by some other pilot.
How do you think the industry will change in the next couple of years?
With the airline coming ( if it does come along). There will be a need for pilots in the next 2 years and the aviation industry in Uganda greatly contributes to the countrie's gross income.
What advice would you give to young girls who are interested in becoming pilots? How should they structure out their path?
The best advice I can give them is to believe in themselves and focus on who they want to be more than what society says. Also, I am part of this new project called Sky Plus Young Aviators Club that teaches young people everything they need to know about aviation.
Are you into any Relationship, if yes how have you managed to juggle between School/Career and that relationship?
That is a bit private hahaha, however, I can gladly say that we all have things we put as a priority in life. If you do love someone, I believe it is a matter of priority and sparing your time to make the relationship work.
Top flying tip?
Don't second guess your self and stick to the basics when things don't make sense.
Who is your aviation hero?
I am looking to be my own aviation hero cause I am looking to change the way aviation is seen in Uganda.
Where do you draw your inspiration from? Who inspires you?
My mother, she is a very hardworking woman and naturally, I learnt from the best.
Favourite Aircraft and why?
Gulfstream discover G500, won't go so much in details but I love private jets and this one besides other factors has the best interior.
Dream Destination?
Italy and Japan.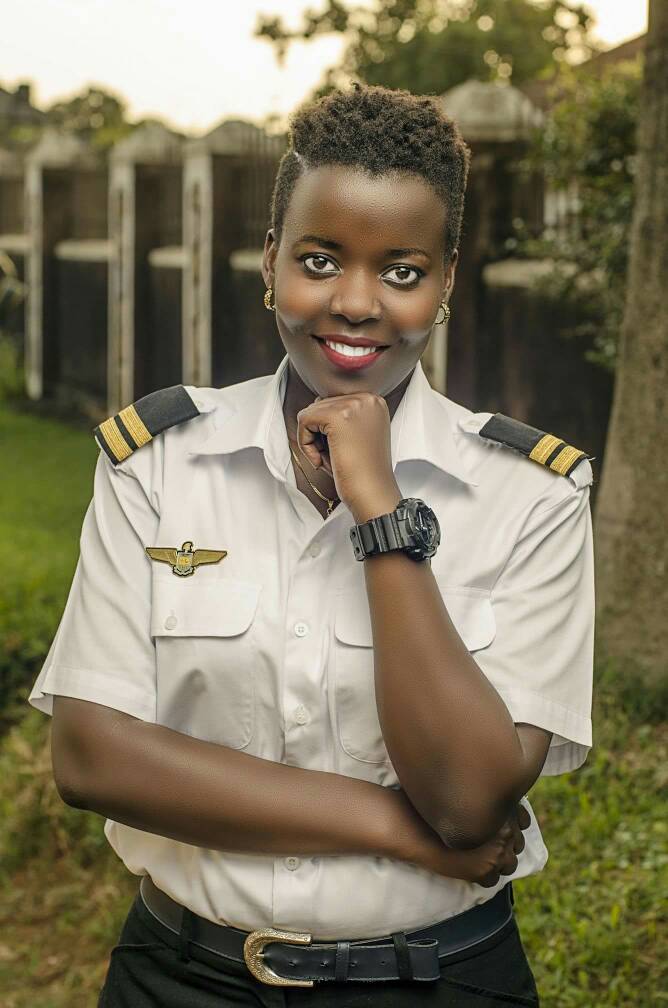 Other Interests (Say something about your Charity work) (how you spend your free time)
When not flying I am the director of Bambino Life Foundation, a charity organization that focuses on girl child education and empowerment and donating essential material to children living in orphanages. I believe everyone can make a difference one way or the other if they put that extra effort. So we have the youth volunteering to make a difference in their societies.
I am also the brand ambassador and partner with Sky Plus Young Aviators Club. Our main focus is to help children and teenagers from ages 4-17 years get familiar with the aviation industry. The program lets the children interact with different people in the aviation industry, visit airports, take fun flights around among other things. We want to build that aviation dream at a young age and also guide you on what steps to take towards your dreams.
Interview by;
Jovines Davis