On Wednesday November 18, 2015, fans of live music thronged the Zone 7 bar to get a glimpse of what to expect during the December edition of Blankets and Wine Kampala.
As early as 8pm, the bar's gardens were turned into a concert ground of sorts. Janzi Band as usual were on hand to give the revelers a memorable evening. The band was again as usual at its flawless self, belting out classic after classic. From Enrique/Sean Paul's Bailando all through to Madox Ssematimba's Omuyimbi.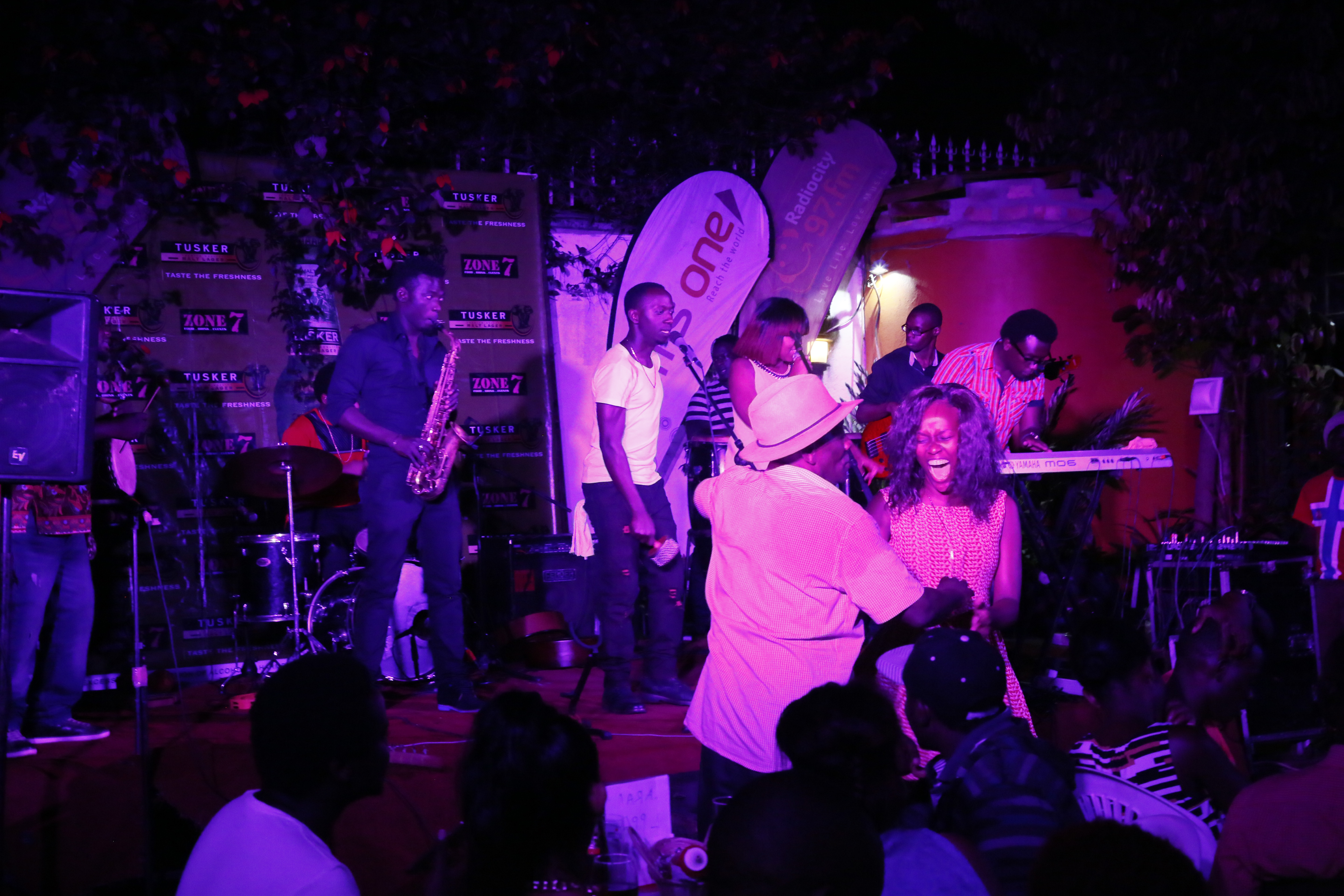 The December edition of Blankets and Wine Kampala returns with a new twist. Fans for the first time have the opportunity to choose who gets to perform as the opening act.
Jackie Akello up against Brenda Birungi on Wednesday for a chance to perform during the December 13, 2015 event.
Brenda Birungi, a former Tusker Project Fame Contender from 2011 was the first to perform. A talented vocalist, Birungi kicked off her performance with her single I'm gonna love you then followed it up with a rendition of Alicia Keys' No one.
Jackie Akello was next up. It seems the audience already knew her vocal prowess. Singing in her luo dialect, Amaari (I love you) was her first track which she followed up with Afoyo (Thank you). By the time she was bowing out, it was clear she had convinced the audience that she deserved a spot at Blankets and Wine. The audience still wanted her to perform more tracks. They thus voted overwhelmingly for her.
Other artistes vying for the opening act gig during the December do include; Rogatien, Sitenda, and Kenneth. They will be performing every Wednesday at Zone 7. To vote for your favorite artiste, all one has to do is buy a bucket of Tusker Malt Lager. Then you pick your artiste.
Phoebe Nakabazzi, the Tusker Malt Lager Brand Manager says this was done to give upcoming artistes a platform to showcase their music.
"We have many artistes who have great music but haven't had the opportunity to perform to a large audience. This is one of the reasons we decided to grant them that opportunity," she says.
After the face-off, Janzi Band took over the night's proceedings. They performed almost everything; from Wiz Kid's Ojuelegba to Harry Song's Ofeshe.
The other musicians who will performing at the closing Blankets and Wine Kampala fete of 2015 areThe Kansoul from Kenya who are the main act, Swahili Nation and Myko Ouma.
The highlight of the day will definitely be The Kansoul's performance. Madtraxx, Mejja and Kid Korra has to be the best combination. Their latest single 'Nyongwa' came with a new dance style and a lot of talk.
Revelers should brace themselves for a lot of action especially when this group takes to the stage.
Comments