Following the announcement by the National Council For Higher Education (NCHE) that Kampala International University is teaching over 13 unaccredited courses, a group of about 200 students have today Monday 14th flocked the NCHE headquarters located in Kyambogo.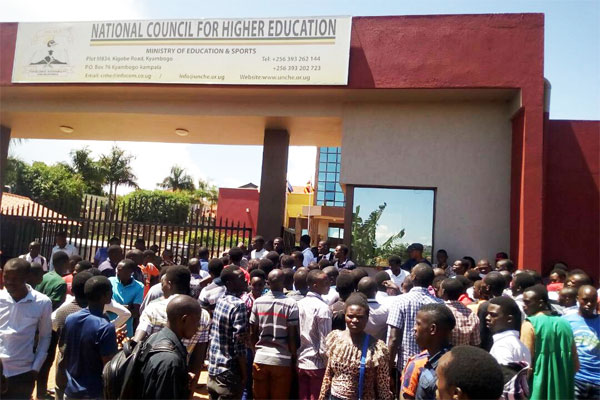 The bitter students are demanding to have a word with the executive director of NCHE, who reportedly refused to turn up for the meeting. One of the students was quoted saying that they will not move an inch until when they meet the NCHE top official, "We shall sit here [NCHE offices] until evening." One student noted. Apparently, some of these students have vowed to block the soon to begin end of semester exams slated to kick off on Wednesday, 16th May.
According to NCHE, the 13 courses are illegal and the academic certificates awarded to the graduates are therefore unrecognized for employment and further studies.
It should be recalled that last week a number of students pursuing the 13 illegal courses held a demonstration at the University's main Campus based in Kansanga as they demanded answers from the University's administration.