Kyambogo University Guild contestants for both the Guild Representative Council (GRC) and Guild Presidency have accused the current Electoral Commission (EC) Chairperson Axam Sembatya for taking part in the current Guild elections by campaigning for selected candidates in this quarantine period. They have cited examples of him campaigning specifically for contestants under the People Power movement.
According to the constitution of Kyambogo University Article 16, the Executive of EC are to be appointed by the Guild President. In reference to that the HE Tundulu Jonathan, the current guild president appointed Ssembatya as the EC Chairperson for this year's guild elections.
It is said that the chairperson and other EC commissioners are using secret lines to campaign for GRCs standing under the People Power movement which gives them an added advantage over others especially those who are contesting as independent candidates.
A number which was used by Axam to sign on the EC documents was reportedly seen campaigning for a one Tendo Nakabuye, a GRC Aspirant who is alleged to be under People Power movement in one the WhatsApp groups. When the number was checked it brought the name of Sembatya.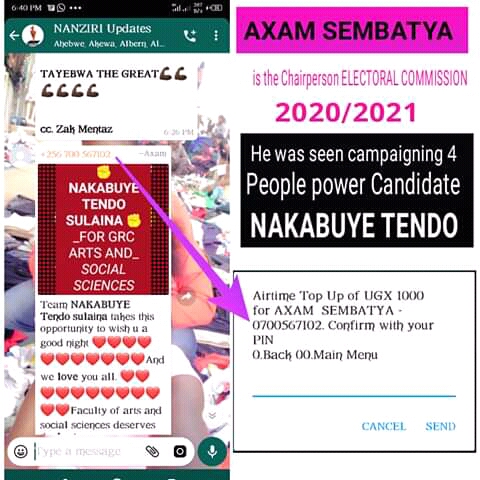 A student who preferred anonymity, said that the EC executive is not allowed to participate in any activity that is aimed at favoring one candidate over the other, but this has to gone beyond to the extent that its even in public now.
"This puts candidates from other parties at risk of not winning any post since the EC is already biased. We request the concerned parties to come and intervene in the situation because the EC is supposed to be comprised of people with very high integrity,'' the student said.
When contacted, Sembatya denied the allegations and said the number appearing in the screenshots wasn't his. He said it is the works of his enemies who are afraid that the students may not vote them for their desired posts and are using propaganda to win elections. That was however, after minutes of conversation in his capacity as EC chair using the same number.
It should be recalled that Kyambogo University guild elections were stopped due to coronavirus pandemic, and they are expected to resume when the Government re-opens academic institutions.